2358 views, 70 faves, 26 features, 8 challenge wins – June 2013
Featured in:
Artists Universe
European Everyday Life
Before and After Group
The X Factor
High Quality Images
Art Universe
The Best of RedBubble
Stairs and Staircases
The Virtual Museum
The group
Bubbling Challenge Group
Neon Heaven
Photografilm
Shadows and Reflections
Featured for a Challenge
The Silky Touch
Amateur Photographer`s Association
Inspired Art
Superbly Visual
Exquisition
Stairs Steps Staircases
Pixellations – The Art of Photoshop
Shapes & Patterns
100%
Downtown
Tell Your Photo Story
Don't know how many times I stayed at the Achat Hotel near the airport in Frankfurt, Germany before I finally got a picture of their neon sign.
This a was actually about 20 years ago… stumbling back from a 'good night out', I'd said goodbye to everyone I was trying to impress with my cool, switched to super-geek mode, and went to my room and fished out the SLR and tripod (being a natural-born geek I never travel without that stuff natch)…
Not normal at all around that area to set up a tripod in front of a hotel at 2AM… but geeks don't care about stuff like that. So I reeled off a couple of shots. And as this was taken on film, I wouldn't know how crap these shots had turned out till I got the reel developed after I got back to Brussels, complete with 3,250 dust specks….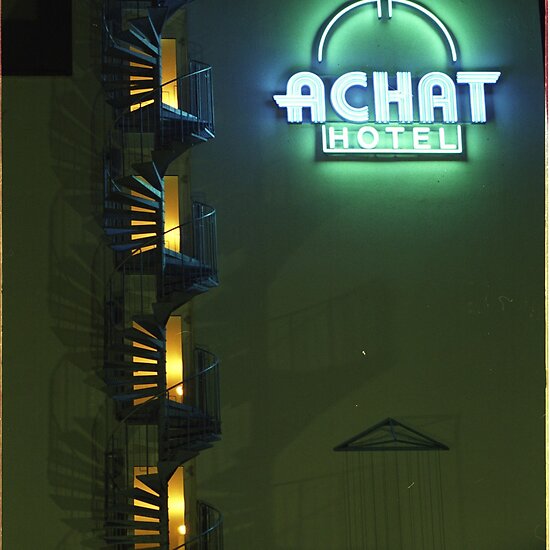 So now, 20 years down the road and with the aid of a neg scanner and a bit of digital pulling and stretching and tone adjustment and stuff, this is a cropped version which I think does this amazing facade justice. Finally.
Canon EOS-100
EF 24-80 USM lens
Fuji Reala 100 ISO
Canon FS2710 negative scanner
CHALLENGE WINNER:
A Night Somewhere – Neon Signs
Light Up My Life – With Some Neon
Featured For A Challenge – Postcard Style 005
Diners, Drive-ins, and other Roadside Attractions – My My This Caught My Eye
Shapes and Patterns – Shapes and Patterns in Neon
Just Fun – Lights At Night
Snaptacular – Here's Your Signs
Which Way – Winding Staircase Upward
CHALLENGE TOP TEN:
Bubbling Challenges – Genetics – DNA
Cee's Which Ways Group – Fire Escapes
Shadows and Reflections – Shadows and Staircases
Stairs Steps Staircases – Your Choice
Stairs Steps Staircases – Wrought Iron
5000 + Views – Less Than 5000 Views
Stairs, Steps, Staircases – Wrought Iron and Steps
Cover Shots – Stepping Up
Light Up My Life – Lighting at Night
Thanks for lookin' :-)