This is the horizontal version of Justice For All , taken to the right with the stairway central to the comp.
The Palais de Justice in Brussels is one of the largest, and certainly one of the most imposing buildings in western Europe. It's where the courtrooms are, and if you ever have the guts to venture in without having done something bad enough to get you in for free, you'll finally understand what Kafka was on about in "The Trial".
I took this years ago on Ilford Delta 400 speed BW film on my Canon EOS 100. Having used a wide angle (24mm which is the equivalent of about 16mm on a digicam with an APS sized sensor), the angles were severe and that bothered me enough to not post it: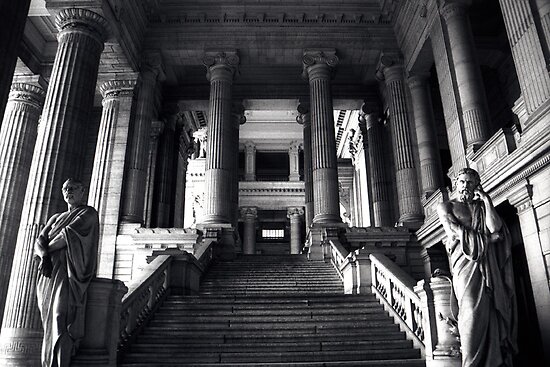 But I got back to it and did some stuff in CS3 which straightened the lines and also corrected some of the dynamic… maybe I'll go back and shoot it in HDR…
But I'm not too keen on going back in that place.
Had a bit of a scare there once…
Lucky to be a free man as it happens…
(whew!)
Thanx for lookin!