1905 views, 72 faves – March, 2013
Featured in:
Wide Angle Photography
Christian Churches, Statues and Crosses
HDR Photography
Occupied Interiors
Visions of Italy
I Love Italy
Challenge Winners Vault
The X Factor
High Quality Images
The Group
HDRI (No Holds Barred)
Around The World
The Virtual Museum
Superbly Visual
This is the breath-takingly awesome pipe organ that overwhelms the space behind the altar in the basilica of the monastery of Monte Cassino in southern Italy. This organ has over 5000 pipes (!) and is one of the most impressive worldwide of its kind.
Perched atop a 1,700 ft high section of the Appenines, the monastery itself has a history that totally blew me away… founded in the 6th century AD, it was destroyed several times through wars and earthquake, the most recent destruction being the bombing by the allies on February 15th, 1944 as it was thought to be a German stronghold. In reality it served as a shelter for civilians, hundreds of whom died in the intensive 3-hour bombardment.
Amazingly, the entire monastery and basilica were accurately reconstructed according to plans and pictures of the original architecture, financed entirely by the Italian government. It was reconsecrated by Pope Paul VI in 1964.
Shot handheld with EOS 5D and 16mm end of my EF 16-35. I used two takes of different exposures and created an HDR image in Photomatix. I avoided using maximum HDR effect, simply using the program to compensate for the extreme range of shadow and highlight as it takes the best exposed areas of each shot. Also did a bit of color correction and stretching to fine tune the symmetry.
Here's another shot showing the altar with the pipes in the background. Notice the blank panels on the ceiling left and right… most of the ceiling of the basilica is unpainted as it's not easy to find artists of Michelangelo's standing who are willing to spend years suspended on their backs 50 meters above a hard marble floor. So work is still on-going.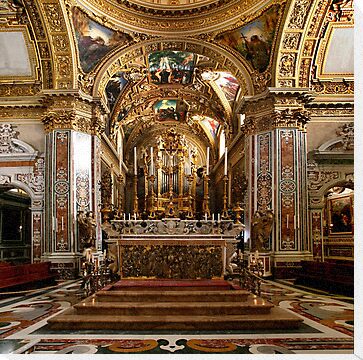 The steps up to the upper courtyard and entrance to the basilica are guarded by one of the few original statues that survived the bombing.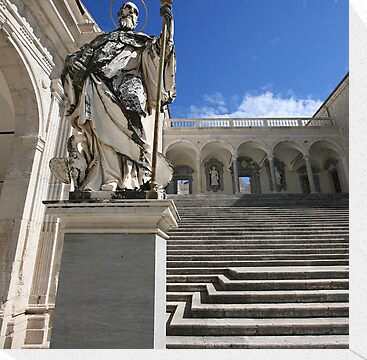 Here, in the upper coutyard with your back to the entrance of the basilica, you are faced with the most awesome feeling of being on top of the world, looking out over the beautiful Italian countryside.
It's hard to visit this place without being totally overwhelmed. Maybe one day I'll clone out the visitors :-)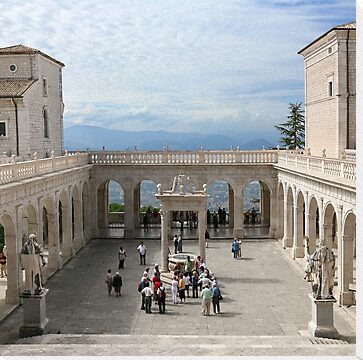 I found a YouTube clip which, although a bit naff, gives a good overall view of the monastery as it is now and a sense of the enormity of the reconstruction, as well as some original footage of it's destruction in 1944 if you dare to look.
I've rarely felt this much emotion over a location. If you ever get the opportunity, it's not to be missed!!
Thanks for looking ♥
First place in challenge Church / Cathedral Interior in HDR
♥♥