August, 2014:
10.081 views
299 faves ♥
6 sales
82 features
28 Challenge wins
Losing My Religion
Life is bigger
It's bigger than you
And you are not me
The lengths that I will go to
The distance in your eyes
Oh no I've said too much
I set it up
That's me in the corner
That's me in the spotlight
Losing my religion
Trying to keep up with you
And I don't know if I can do it
Oh no I've said too much
I haven't said enough
I thought that I heard you laughing
I thought that I heard you sing
I think I thought I saw you try
Every whisper
Of every waking hour I'm
Choosing my confessions
Trying to keep an eye on you
Like a hurt lost and blinded fool
Oh no I've said too much
I set it up
Consider this
The hint of the century
Consider this
The slip that brought me
To my knees failed
What if all these fantasies
Come flailing around
Now I've said too much
I thought that I heard you laughing
I thought that I heard you sing
I think I thought I saw you try
But that was just a dream
That was just a dream
REM
:
All the elements used in this collage are my own…
All but the water were shot with a Canon 5D MkI and 16-35mm lens.
The image started with this picture of the beautifully melancholic ruins of the ancient abbey at Villers la Ville south of Waterloo, Belgium.
This is the middle exposure of the three bracketed takes I used to create an HDR image (with Photomatix) of the main section. As I used a wide angle lens to include the vaulted ceiling, I also needed to correct the sloping verticals using the Transform tool in CS2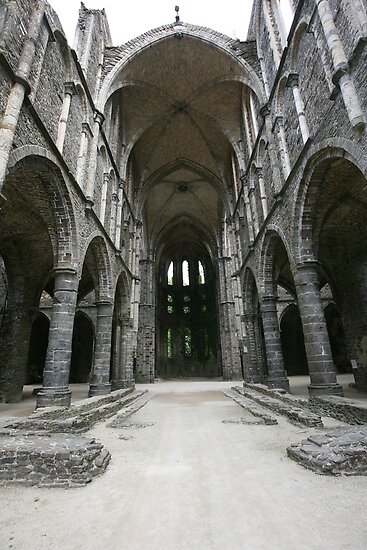 The water on the floor is from a shot I took on film a few years ago at Gibraltar in southern Spain (EOS 100 + 24-80mm on Fuji Reala 100 ISO)…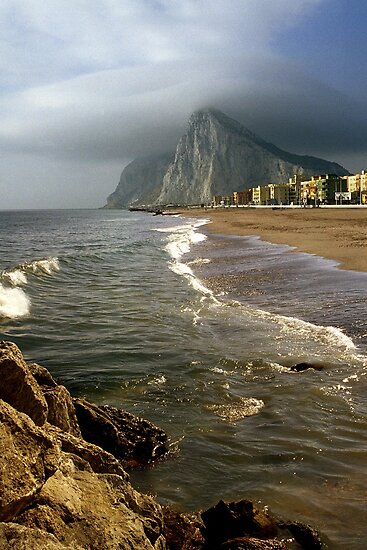 The sky through the windows in the back of the abbey was taken from this shot from Flagler Beach in Florida (neva know when yer gonna need a dynamic sky… always good to keep a couple in your library).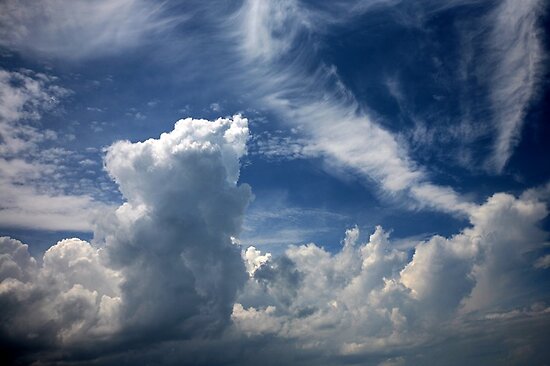 The original picture had 6 round windows in the back… I replaced them with a segment of this window from another section of the abbey, just cuz it looked cooler.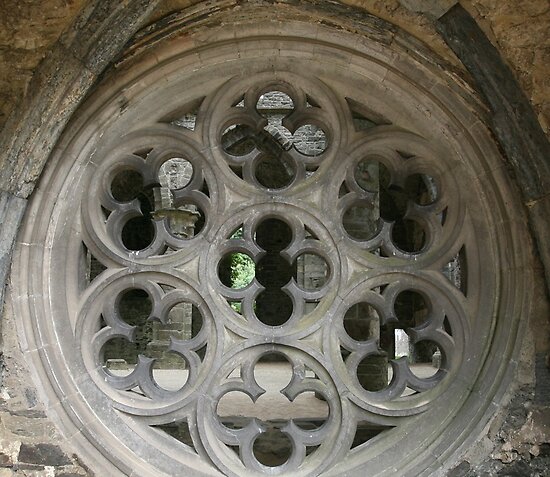 The birds are from this other take of the sky over Flagler Beach. No idea what they are, but as I didn't have one single shot of vampire bats (which actually surprised me…), I settled for these guys.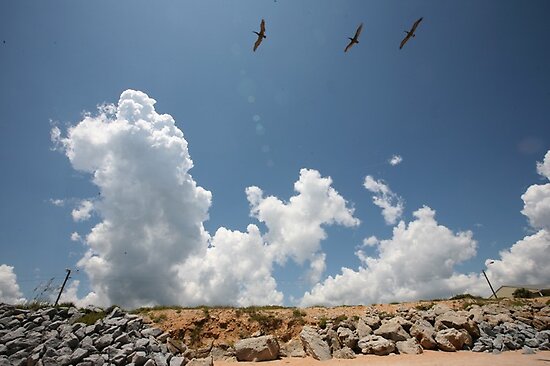 The roots growing up the columns in the foreground were actually growing up the outer wall of the abbey… so I planted them inside with CS2 and couldn't believe how quickly they spread….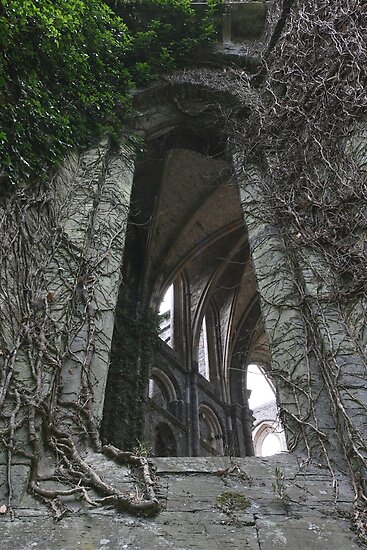 And finally… the 7th element. Reeled off 60 shots of myself in lots of poses and a couple of different shirts. Did it on the pattio with the self timer and totally frustrated the next door neighbor as he could see the set up but I kept myself out of view. If it were me, I would have had the kid kick a football over the hedge and told him to have a good look while he fetched it!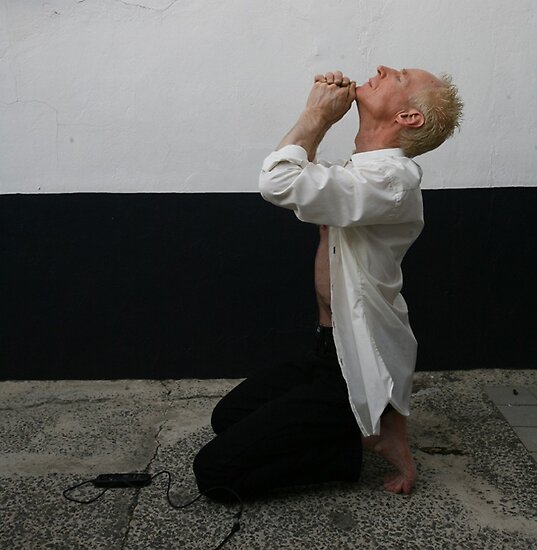 Thanks for looking :-)
____________________________________
:
✦ Altered by Imagination ✦… by the absolutely fabulous Rhonda and Polly ♥ ♥
Photo Manipulators Group
Moody and Evocative (twice… how`d that happen? :-)
Reaching Freedom ♥
Before and After
Vibration in Art and Verse
Inspired Art Group
The Secret Society
HDR Photography
Core
The Healing Journey
Artrageous Self Portrait Group
Freedom in Words and Art
Everything Ends
Altered by Design
Breaking the Boundaries
10+ Features (:-))
The X Factor
Art Universe
Wide Angle Photography
Beautiful Blends
Fantasy Fine Art Composites
Artists Universe
Digital Art Compilations
High Quality IMages
Dark Cabaret
Fantasy Art
#1 Artists of RedBubble
Safe Haven
HDRI
AQVA
All Out Emotion
All In Editing
Digital Photography
Mysteries of the Past and Present
Christian Churches, Statues and Crosses
The Virtual Museum
Take Me Higher
Imaginative Skulls
StrangeLand
Digital Art at its Best
Inside the Self Portrait
Religious Art & Photography
The Group
Fantastic Mixed Art
A Class of its Own
Challenge Winner's Vault
Love of Eerie and Enchanting Artwork
Superbly Visual
Elite Images
Deepest Darkest Fears
Alter Ego
Layered Up
Freedom Of Expression
Cutting Edge
The Challenge Corner
Digital Whisper
Truly The Best
Art and Ink So Free
Canon DSLR
Tell Your Photo Story
Light Of Love
Atheism and Humanism
Top Favorites
Pixelations – The Art Of Photoshop
Far Out Digital Art
Challenge Accepted
5000 + Views ♥
Magical Realism and Urban Fantasy
Abstract – Surreal Art
Muted
In One`s Mind`s Eye
5
100%
Solo Exhibition
Image Writing
You Got It, We Want It
Magic of Post Processing
Creative Images
Art Inspired by Written Words
I Got The Music In Me
:
C.O.R.E. – Losing My Religion
The Group – It Has To Be Manipulated
Breaking the Boundaries – The Edge of Perception
Freedom in Words and Art – Outside of the Dream
Digital Photography – Best of the Best – Featured Images
Fantastic Mixed Art – Thought Provoking Image
Vibration in Art and Verse – The Vibration of Introspection
Spiritual Mystical Fantasy – Spiritual Fantasy
Digital Art Compilations – April Avatar
Inspired Art – Battle Of The Best
Layered Up – The Challenge
Superbly Visual – Monthly Homepage Highlight
Mysteries of the Past and Present – Scary Locations
Art and Ink So Free – Treasures To Be Realized
Exquisition – Home Page Spotlight
DeeZ 5Cs Awards Showcase – Layered Compositions \
Beautiful Blends – In and On The Water
Creative, Talented and Unknown – Grab the Voucher and Run
Challenge Accepted – Layers and Layers and Layers
Alter Ego – May Favorite Piece
Digital Art Compilations – November Avatar Challenge
Beautiful Blends – Once Upon A Dream (+ featured artist !!!)
Layered Up – Group Avatar Challenge
Beautiful Blends – Let`s Get Surreal
Far Out Digital Art – Awesome Work
Amazing Challenge Entertainment – Atheist
Bubbling Artists – An Image That Tells A Story
REDemption – Avatar Challenge no. 5
:
C.O.R.E. – Sanctimonia – 2nd
Imaginative Skulls – The Jounrney Continues – 2nd
Digital Art At Its Best – Blow My Mind – 3rd
C.O.R.E. – Cutting Edge – 4th
Imaginative Skulls – When Dreams Take Flight – 7th
Exquisition – Fabulous Photo Manipulations – 2nd
Magic Realism and Urban Fantasy – Spirits Lost & Found – 4th
Mysteries of the Past and Present – Something Wicked This Way Comes – 3rd
Freedom Of Expression – The WOW Factor – 7th
Challenge Accepted – Stock Image Edits – 8th
Superbly Visual – Digital art Only – 4th
Layered Up – Your Favorite Image – 5th
Challenge Accepted – Dark Art – PhotoManipulation – 2nd
Cutting Edge – Beyond the Veil – 5th (I think :-)
Mood & Ambiance – Dream-Like – 3rd
StrangeLand – For the Birds – 6th
Superbly Visual – Alphabet Themes – 2nd
Light In The Darkness – Beauty of Hope in Life – 2nd
Which Way – Places of Worship – 2nd
Magic Realism and Urban Fantasy – Light – 3rd
Cutting Edge – What If Everything You Learned Is Wrong?
Magic Realism and Urban Fantasy – Illumination – 2nd
Artist On Facebook – Enter to Win – 2nd
Magic Realism and Urban Fatasy – What Your Really Love – 2nd
Challenge Accepted – September Image of the Month – 2nd
Cutting Edge – Doomsday Revisited
Artist On Facebook – Enter To Win
Light In The Darkness – Artist Choice
Challenge Accepted – Emotions – Something is Missing
X-Factor – Whimsical Fantasy Scene
Amazing Challenge Entertainment – Images Depicting Strife In Life
Thanx to everyone who dug this enough to click!