2958 views, 92 faves – November, 2012
Thanks to the deliciously awesome Tracey Mac for doing this collab with me, and to her fathomless inspiration…
… and though you're totally sick of hearing it…
PLEASE click on the large view!!
Castle Walls
Once in a dream
Far beyond these castle walls
Down by the bay where the
Moonlit water falls
I stood alone while the minstrel sang his song
So afraid I'd lost my soul
There in the fog his song kept calling me
Leading me on with its haunting
melody
Deep in my heart a voice kept echoing
I knew I'd soon be wandering
Far
beyond these castle walls
Where the distant harbour meets the sky
There the battle rages like hell
And every dove had lost its will to fly
Far beyond these castle walls
Where I thought I heard Tiresias say
Life is never what it seems
And every man
must meet his destiny
- Styx
Elements:
Background is from the drive along the enclosure wall of the Abbey of Maredret from Maredsous in the breathtaking Ardenne region of southern Belgium.
The cobblestone road was taken not far from my home and replaces the original tarmac.
The Lute is courtesy of Ben's Guitar Shop in Brussels… couldn't believe that hopelessly romantic master luthier actually had one of these puppys in his workshop amongst the mouse traps!
The goddess in white is passionately played by herself…
… and as I had trouble choosing between the color and BW versions, here's the original…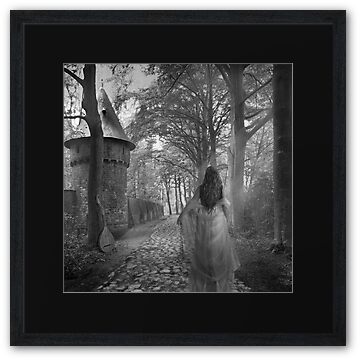 Thanks for looking!