26.343 views, 510 faves, 48 features, 70 sales – April 2014
New York City, USA
Featured in:
New York City
Americas~ Rural, Urban, Wild, Free
The Black & White Photography Enthousiasts
5000 + Views
Black & White Night Photography
Sky High Group
Light Up My Life
New York City Journalism
Most Favourites Group
Ace Café
Black and White Photography
Art Universe
B&W Photography 4 You
High Quality Images
All About New York State
Night of Low Light
The Virtual Museum
Most Viewed Images Group
Cityscapes and City Skylines
The Group
Film Photography
Superbly Visual
Exquisition
Zingers
Art For Sale
Featured for a Challenge
The Power of Photography
The Silky Touch
Black & White Spotlight
Truly The Best
Inspired Art
A Class Of It`s Own
Artists Universe
BnW Photography
City Life Is The Only Life
Before and After
RB – 25 Deliciously Detailed Streets and Cityscapes
Love Affair With The Lens
Artists Universe – Artist of the Month Award, Feb 2013 ♥
New York State Group
Challenge Accepted
Self Taught Photographers
Downtown
Solo Exhibition – SoJie 22
Snaptacular
Americas – Rural, Urban, Wild and Free
United States – Monthly Themes
Postcard Destinations
Taken from top of the Empire State Building, NYC, 10:00 PM… all that was missing was the Batman logo reflecting off the overcast sky, and strains of Gershwin melodies riding on the wind.
In fact it was so windy up there I had to jam my lightweight tripod against the wall with my knee to keep everything still. Out of 8 takes from 4 different views, this was the only one to come out sharp enough to use.
Originally shot on Fuji 100 ISO color print film with a Canon EOS-100 SLR and 28-80mm lens, scanned to digital on a Canon FS2710 negative scanner, then seriously edited in Photoshop. I decided to post the BW conversion as the inspiration from Batman and Gershwin was just too overwhelming to pass on when I saw what effect the monochrome had on the overall dynamic.
Aside from the BW conversion (simply destaurated the master), I have to admit this take has been seriously tweaked, mainly using level and contrast tools in PS2 in selected areas… kind of like the way a dark room technician would dodge and burn a BW print from a negative a gazillion years ago…
Here's what came out of the scanner before the tweaks to give a before & after comparison: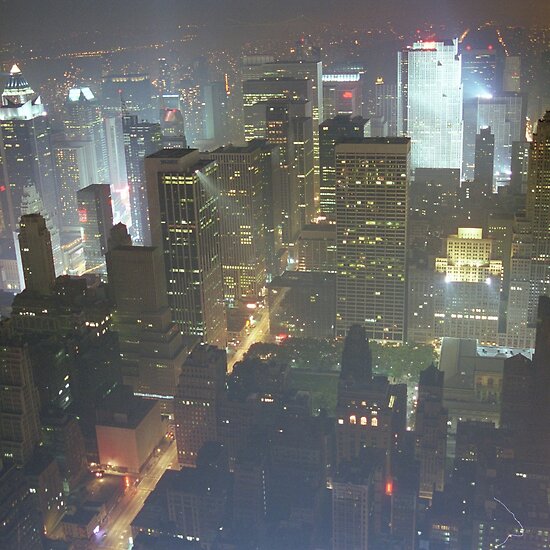 CHALLENGE WINS:
Favourite Places you Take, Make or Paint – Monochrome / Black & White
Cover Shots – Lights of the City
Skyscrapers – Avatar Challenge
Americas ~ Rural, Urban, Wild and Free – CityScapes In America
Challenge Accepted – From Rooftops and Windows
All About New York State – What Does New York Mean To You?
Challenge Accepted – From Rooftops and Windows
All About New York State – New York By Night
All About New York State – New York, New York !!!
Thanx so much to everyone who dug this enough to let me know ♥