6280 views, 114 faves, 18 features – March 2013
FEATURED IN:
Cocktails and Dreams
Still Life Fine Art & Food Photography
Art of Glass
The X Factor
High Quality Images
Film Photography
Artistic Libation
Art Universe
Explosions in the Sky
The Virtual Museum
The Group
Science & Art
Exquisition
Digital Art at its Best
Art For Sale
DeeZ 5Cs Awards Showcase
Excellence in Photography
Alter Ego
I actually shot a pellet through the glass, in front of a black paper background, with the camera on timer mode. A home-made switch made with 2 sheets of metal foil triggered the flash when the pellet hit it through the glass, and so the action was frozen. Destroyed 3 glasses to make sure I got at least one good picture, and spent an hour cleaning up the kitchen.
Here's the original shot…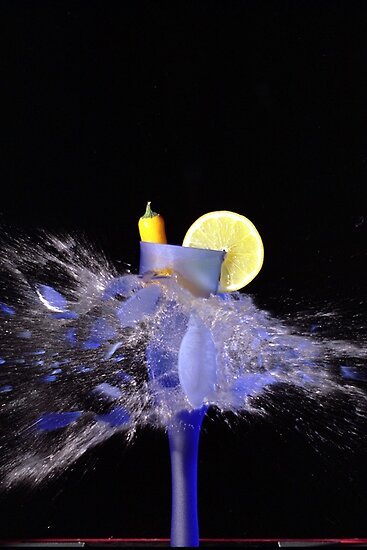 The lightning, from a thunderstorm taken out the bedroom window, was added with Photoshop as was the flashpoint above the pepper.
Both the lightning and exploding glass were shot on Fuji Reala print film on a Canon EOS-100 with 24-80 USM lens. The downside of which being that I had no way of knowing how either image would come out until I had the reel developed.
I guess that was one of the reasons why working with film was so exciting at the time… now days we see the result as fast as it shows up on the display. And we maybe don`t waste so many glasses !!
The negatives were scanned to digital on a Canon FS-2710 film scanner and processed in PS6.
Thanx for looking!