18,381 views
446 faves ♥
47 features
60 sales
June, 2014
Featured in:
✦ Altered by Imagination ✦ (by the divine duo, Rhonda & Polly ♥♥)
Digital Art Compilations
Cats and Dogs
Paws and Claws
Funny Kritters
Animal Fantasy Composites
Humour Captured
Photo Manipulators
Altered by Design
Birds! Birds! Birds!
All Blends
Inspired Art
Before and After
Cat's Pajamas
Doggie and Kitty Paradise
Cats and Kittens
Calendar Shop
The Silky Touch
High Quality Images
Art Universe
Pets Are Us
Featured for a Challenge
The Virtual Museum
For the Love of Cats
Creative, Talented and Unknown
Most Viewed Images Group
Show Us YOUR Pets
Animal Captions and Confessions
Images of Endearment
Exquisition
Art For Sale
Out Of The Blue
For the Love of Cats
We Sell Art and Collectibles
The Group
10.000 Views
Peace, Love and Tranquility
Tuesday Afternoon
Props 2 Props
Freedom Of Expression
Eye Contact
Gems
5
Superbly Visual
Tabby Time Cats
Every Little Thing You Do
Furry and Feathered Friend`s Features
CHALLENGE WINS:
Featured for a Challenge group: Some More Cute Greeting Cards
Pets Are Us – April Avatar
Digital Art Compilations: Cats and Dogs Challenge
From The Heart – May Avatar
Digital Art Compilations – Animal Challenge
Who Are You To Judge?: It Makes Me Smile
Scratch, our Siamese, photographed with what would on a normal day be his dinner. Birds were shot at a local pet store and added in Photoshop. As the birds were photoraphed in cages, the bars they were behind had to be cloned out, and this took a lot of time and patience. Addition of shadows and direction of lighting effects were important factors to getting the image to look realistic.
Here's a step-by-step…
First, the original take. Scratch was SO cooperative in those days:-)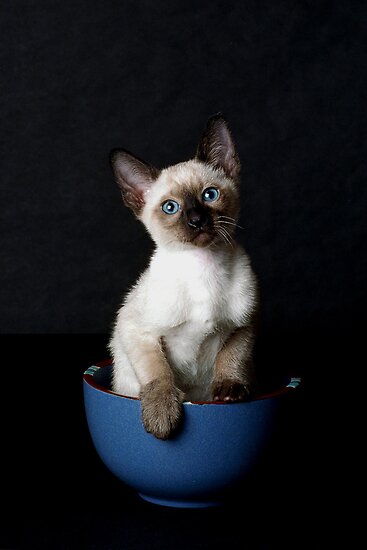 Next, a trip to the local pet store… shooting the birds wuz a piece of cake cause they were behind bars. Kinda like ducks in a barrel!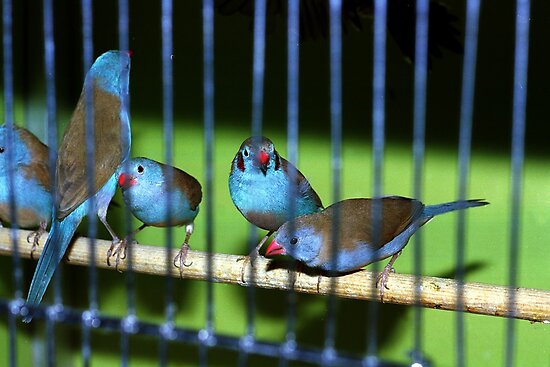 This was the hard bit… cloning out all those bars and separating the birds from their background. This took lots of time as so many of the bars ran through the important bits like the beaks and eyes, but it was an important stage to make the finished shot look real.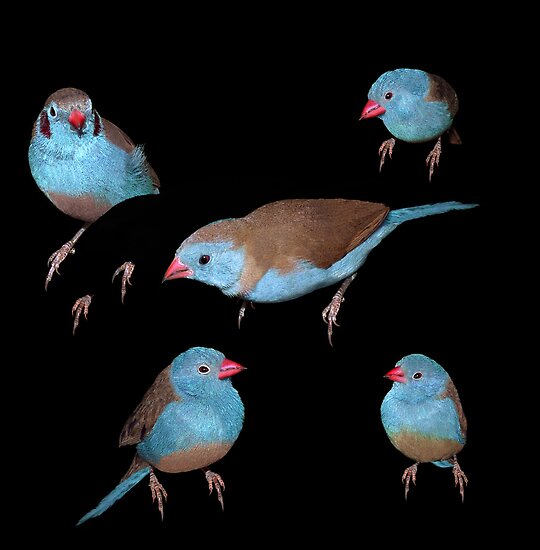 I selected the bird images that best suited the original image and pasted them in. Without the shadowing it still looks very flat and not very realistic.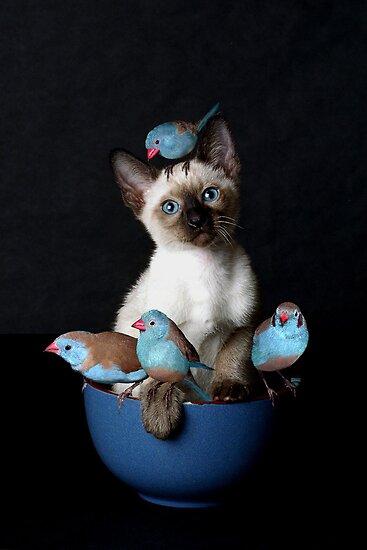 The final image, compared to the the one above, shows the importance of adding the shadows and making sure the light is seemingly coming from the same direction in all the elements. The shadows were done by selecting and feathering areas to separate layers, filling the layers with black, and then reducing the opacity of the layers.
All shots taken on Fuji Reala negative print film with a Canon EOS-100 + EF 100mm macro lens, and scanned to digital on a Canon FS-2710 negative scanner. Editing done with Photoshop 6.