So it's done. Cleared all the ivy off the roof of the garden shed. It's a job I hate cause even though I think our local spiders do a totally amazing job of controlling the mosquito population of our town, there's a shitload of them hidden in the ivy… and Belgian Jumping Spiders are BIG and their webs are MASSIVE and the reason there's so many holes in my gardening gloves is cause they KNOW where my fingers are…
Whew! It was a tough job cause I let it go too long. But at least this time, I figured out a way to cut the clear-up time down by at least a half hour… I raked all the cut vines off the patio onto the lawn and ran over them with the lawnmower, catching them in the collector basket so there's no more volume to deal with than a normal grass cutting session. So with the time I saved, I also weeded the garden in front of the shed and oiled the teak garden furniture.
Which is probably the last bit of outside work I'm gonna do before Christmas !!
As a result of all that, I'm feeling pretty pleased with myself and figured it was time for a Delirium…
Delirium, aside form being one of my most familiar states of mind over the past 40 years… is a Belgian beer. I only discovered it a couple of months ago when my son in law asked me to bring him some Belgian beer glasses to Montreal for his collection. Couldn't find the Palm ones he wanted, but instead found these brandy-sniffer shaped glasses with pink elephants on them. Turns out the beer itself comes in a bottle that looks like a cream-colored ceramic with a peppered appearance (actually painted onto a brown transparent glass), and the label and foil neck wrapping has Pink elephants, strutting alligators… and something else dancing on a yellow ball that I can't imagine what the fuk it is…
OK, so yer thinking Belgians do really strange beers, yeah? Not always, but in this case they absolutely went totally fukking berzerk!!
The reason being that this beer, when opened with a Homer Simpson bottle opener and poured into a generic Belgian Beer glass is the most gorgeous amber color with a thick, finely moussed head, and because it's triple fermented, there's still some activity going on when it sits in the glass and has a constant stream of bubbles rising from the bottom (this actually is more pronounced when drinking it from a proper Delirium glass as I found out when drinking it with son in law Art… yup, even found the stuff in Montreal !!) This is by far one of the most visually stimulating beers in the world.
As for the taste?? OK, it's fruity. And if anyone who drinks Bud light wonders what I'm talking about, this is what happens when they brew beer to 8,5% alcohol in Belgium. It just goes a bit nutz and takes on any flavor that you can imagine it having. So I'm thinking Belgian Jumping Spiders blended with a bit of peach from the neighbor's garden (he'll neva know I pinched a couple through the fence :-), and LOTS of lovely fresh green ivy. Mmmmmm…
OK, so I'mp a bit pissed. A bot delirius in afct… (hic)
Whew!
Beforz I'm adsoljutely uanbel to dio itq qnymore… he'e a fukkin pitcha…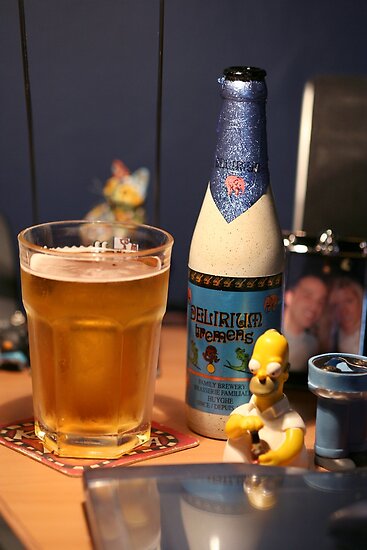 Hopr yer feel<qswlisng as good as nI am… (hic)
(smilke)…