Indiana Tea House, Cottesloe Beach.
An unusual building right down on the beach, built in 1910. Had a quaint tea room and ice-cream parlour.
Moved my pov till sun just out of frame to get flare.
The Cottesloe council is trying to ban just about everything on this beach, including photography.
Protests going on now (sept 2010).
infrared Pentax K10D IR680nm converted.
8mm fisheye, iso100, f11,
3 shots HDR processed with Photomatix pro3.
fine tuning, levels with cs4 and noise with Topaz.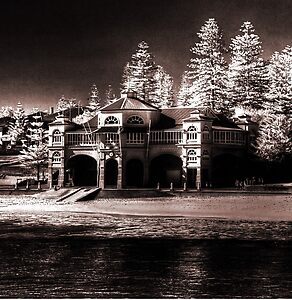 Indiana Tea House #3, Cottesloe Beach, Perth WA
by BigAndRed
in the top 10 in 'The Built Form' WA redbubbles group, 21-11-2010.
101 views 14-12-2010