3323 VIEWS AS OF 2ND SEPTEMBER 2013
*21/1/11 – SOLD ONE LARGE FRAMED PRINT"
*29/7/12 – SOLD ONE GREETING CARD"
"FEATURED IN MY ISLAND ISLANDS ISLANDS GROUP":http://www.redbubble.com/groups/my-island-home
Now don't go looking for the Pelican as its not there! This sunset was captured from the sandy beach just near the end of the old Pelican airport runway, a suburb that is called Pelican. Its a magic spot to watch the sun set and on this particular day I wasn't disappointed. The colours were totally different to the day before but still provided a wonderful performance before the sun finally set in the west towards Toronto on the other side of the lake.
PROUD SALE OF A FRAMED PRINT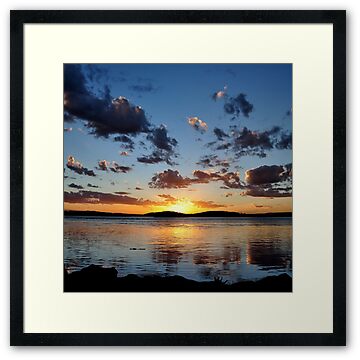 Thank you to the purchaser