Redbubble Rumble Lamington Challenge - Junee 2012
18 dedicated Redbubble Rumblers braved heavy rain and floods to attend the recent Junee Redbubble Rumble. Over the weekend we visited the historic and very haunted Monte Cristo Homestead, a working sheep property where the owner gave us full reign of the shearing shed and surrounding buildings, the Junee Roundhouse Museum , the Junee Railway Tea Rooms and I must not forget to mention the Licorice Factory where we spent many a morning sampling and supping their "to die for" Hot Chocolates and Iced Coffees.
Saturday night was a Pizza Night with gourmet pizzas being delivered to our door. Following this was the long awaited LAMINGTON CHALLENGE between Phil Johnson and Phil Woodman
Now take a look at these two, what looks like "simple examples of a lamington" … one with cream … one without!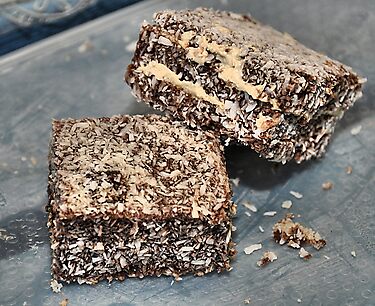 Now the competitors, Phil Woodman on the left and Phil Johnson on the right! Both clutching a lamington and innocently taking their first bite!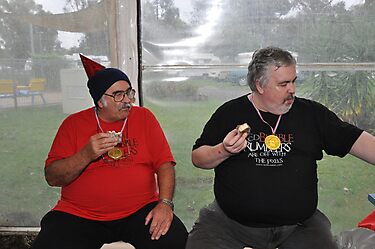 Part of the gathering … all discussing whether they are game enough to sample the lamingtons layed out before them! From left to right, Julie White, Bruce Campbell, Wazza, Di & Ian English with Ian Berry almost out of the picture – smart boy Ian!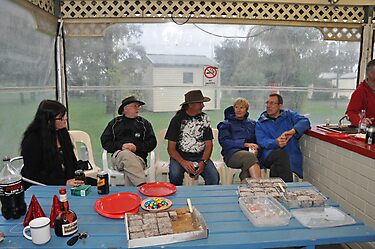 (Phil Woodman to Phil Johnson) "What the heck did you put in your lamingtons?
(Phil Johnson to Phil Woodman) "Just a little Grand Marnier" – witnesses were on hand to have seen Phil J up end the bottle of Grand Marnier onto his lamingtons just prior to the challenge …. mmmmm!
Phil Woodman admitted that his secret ingredient had been Baileys – but how much!!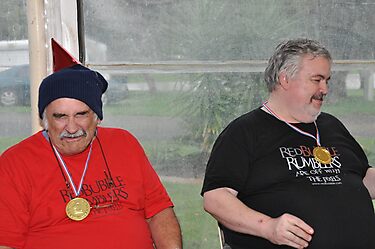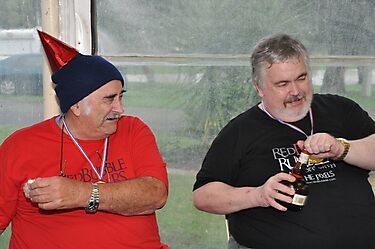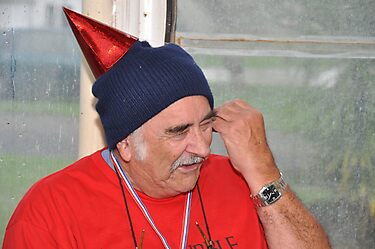 Please, no more, my cheeks hurt from laughing!!!!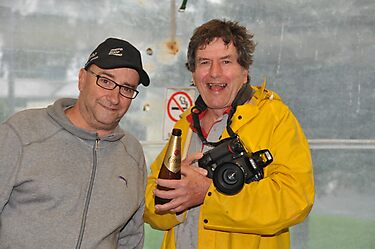 Norman Orly & Arnold Vanderheiden … Arnold is clutching his camera as if to say … I'll stick to my own brand of grog and my camera thanks ….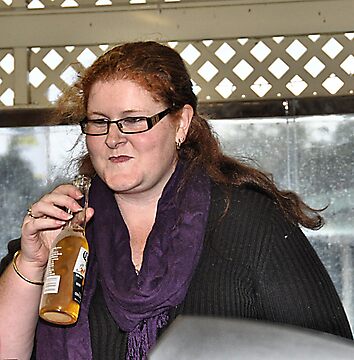 Sharon Kavanagh looks anxious to wash it all down … shame about the tears Sharon!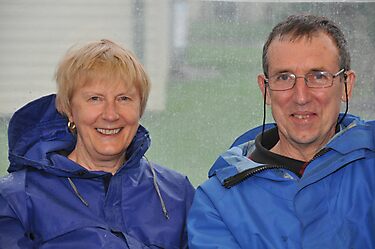 Di & Ian English looking quite happy with themselves … it was quite obvious that they had a ball at the weekend.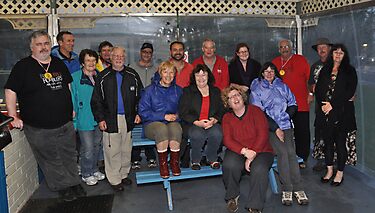 The Redbubble Rumblers (left to right – side and back row) Phil Johnson, Ian English, Rosalie Dale, Arnold Venderheiden, Bruce Campbell, Norman Orly, Adriano Carrideo, Ian Berry, Sharon Kavanagh, Phil Woodman, Wazza & Julie White (on the table) Di English, Bev Woodman, Rosie Appleton and Gail Douglas (thanks to Rosie's husband Peter for taking this photo).
Oh … and the outright winner of the lamington challenge was …. drum roll please …. it was Phil … yes Phil!!!! Now you might ask another question here as to 'which Phil' …. well that is the question and its also the answer. Recipes will be supplied on request
If you wish to see work put up by the Redbubble Rumblers during this adventure weekend, search Junee Redbubble Rumble or go to the individual's gallery.
A huge thank you to Rosalie Dale and Phil Johnson for all the planning that went into the weekend.
No additional fee was charged for the many laughs we enjoyed!
To all those who turned up and braved the weather – thanks guys for an absolutely wonderful weekend .. this group of REDBUBBLE RUMBLERS WERE DEFINITELY OFF WITH THE PIXELS