This painting was nominated for the prestigious Pay it Forward Group by Ega39
These are the words of this excellent artists:
"Its very hard to do this, is so many wonderful artists in RedBubble and I know I can't nominate everybody……………..
I want to nominate Elizabeta Hermann, I love the music in her paintings, the movement and the color
I love the series "All That Jazz"
I hope you consider my nomination of this wonderful artist"
~
I am very thankful for this Nominations and feel very honored to be part of this EXCLUSIVE GROUP!!!
…………………………………………………………………………….
Link to the Challenge I WON with this painting:
MUSIC SPIRIT Group - DRAWING AND PAINTING / March 02, 2012
---
~~
Inspired by a short (too short…just 3 days…:))))), vacation in New Orleans I painted this FULL OF JAZZ painting.
Can you hear it?…:)
I did this painting after my Jazz series, which is also exhibited here in my Gallery.
Original:
Acrylic on Stretched Canvas, 18/24in – sold in December 2010!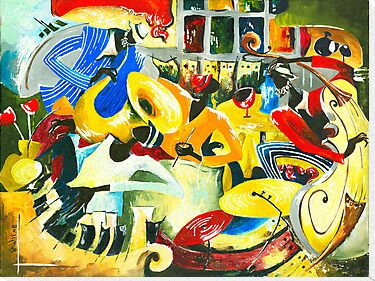 I invite you to visit my pretty Zazzle Store here, to see some nice products with this image…:)
35 times Favorited as of August 30, 2011!!!
Please listen to the music, click here:
MUSIC
- 3 sales on RB!
I SOLD the original on the 9th of December 2010 thrue a Gallery here in Denver!!!
---
---