Look into the eyes of this clown. Do you see even a little part of your own soul? If the answer is YES, Betty has achieved her goal. There are several ways to express happiness, pain or other emotions in art. An artist I know said "Every artist paints or draws at least one clown in their career". Why do you as the viewer suppose this is true? Personally, I think it is. Why? – because it is a way to express the pain or joy we all feel in any given time in our lives.
As many of the portraits of clowns in times past, an illustration of the personal frustration with the circumstances we all face in our lives reflects in this work.
Inspired by a very, very heart braking happening in our life in 2007, when my soul was crying but I needed to hide my pain and smile around…:(
---
To Bare Your Soul offers wisdom and validation and is empowering.
-—————————————————————————————————-
The Orignal painting was sold to an Art Collector from NY.
Original:
Mixed Media, Watercolor and Soft Pastel on Paper, 16/20in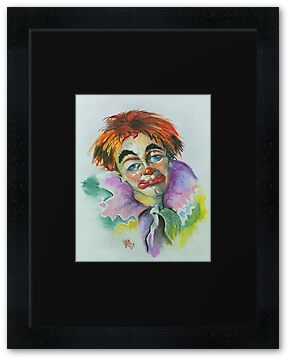 ---
I know that Sherri Nicholas is one of the biggest fans of this piece, she has her personal reasons….. Please visit her OUTSTANDING PORT, click here:
---
2343 views and 93 times Favorited, as of March 21, 2011
---
- 2 sales on RB!