Frankly, I'm a bit staggered that I was able to take this photo on a Mobile Phone (even a Nokia N8, as endorsed by David LaChapelle ). There's something about the way the Nokia actually works in low light by converting noise into a kind of 'abstract expressionist oil pastel' treatment which is pretty damn brilliant.
Excellent for atmosphere, anyway – sample detail is below and is less impressive (if you're that way inclined) but to me this is an excellent compromise to the smaller sensor of a mobile phone.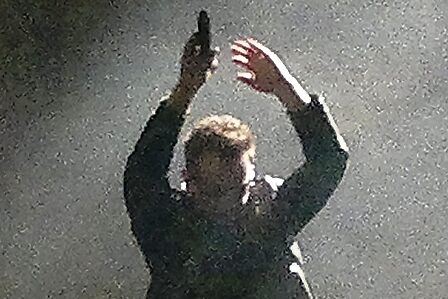 Anyway, photo taken of U2's Bono in concert in Sydney on December 13, 2010. Excellent concert, as 85,000-odd fans would agree!