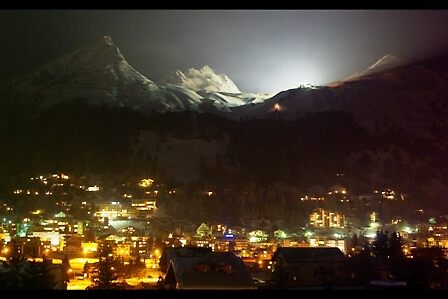 There are a couple of things I think are noteworthy about this shot.
Firstly, I would never have seen this view at all had I not been coerced by a friend to go out to the roof (!) to grab some snow (!) as a drinks mixer one evening after we'd gone skiing.
Secondly, I originally took this as a shot which I liked more, where you could see the mountaintops in context – they sit, Mt Olympus-like above the Swiss town below (refer picture at top)
The crop, however, has the advantage of looking almost science-fiction-ey which I like a bit more than the total shot. Also, it's a panorama, and I don't generally take many of those.
The original shot that the crop is taken from is this one: