~ Please click to enlarge ~
Tarpon Springs sponge boats at the dock, with their wares unloaded.
Location: Tarpon Springs, Florida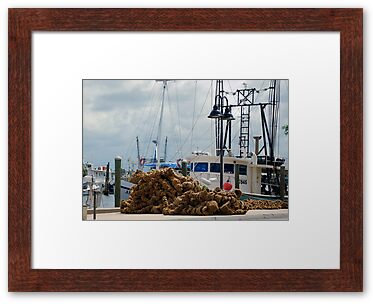 The Gulf waters off the West Coast of Florida north of Tampa Bay comprise one of the few areas of the world where the species of natural sponges suitable for commercial use are found. The natural sponge industry in Tarpon Springs dates from about 1890 when John K. Cheyney launched his first sponge fishing boat. Sponges were retrieved by hooking until the technique of diving for sponges was introduced in 1905 by John Cocoris, a recent immigrant from Greece, where the practice of sponge diving was common. Within a few years, many Greeks had arrived in the area to work in the sponging industry.
The Tarpon Springs Sponge Exchange was incorporated in 1908 as a shareholding organization to provide for the storage and sale of sponges. The peak of prosperity for the Tarpon Springs sponge industry came in the 1930s. In 1939 the sponge beds in the area suffered from a disease which substantially reduced the crop of healthy sponges for several years. In spite of the decline in the sponge industry, the Tarpon Springs Sponge Exchange has continued to serve as a focal point for the Greek community.
Nikon D40x, Nikkor 55-200 mm
1/500 sec, F5.6, ISO 100
© Ben Waggoner, All Rights Reserved.
Featured in Groups:
Florida the Sunshine State
If you like Tarpon Springs sponge boats, you may also like Sponges on the dock…