G'Day!
My name is Ann-maree, originally from Sydney, Australia, Downunder and I have now found myselve washed ashore in the beautiful State of Utah, USA, home of the Great Salt Lake, many Famous rocks stars, Bryce, Arches and Zion to name but a few. Plus, my shares in my own island Antelope Island.
Married to Mr Perfect with four wonderful step-children and one natural son in Sydney, Australia. I have the wonderful opportunity to photograph many beautiful Landscapes and Nature scenes of North America and Australia. It is my privelege to be able to share these with you.
I also have an Art account, that has portraits, art pieces and T-shirts, called "BellavistaArt"
Bellavistaart
Lastly but not least ….THANKYOU!!! For your ongoing support, comments and even for simply dropping by and taking a look….GREATLY APPRECAITED:-]
Bellavista2 is a Italian for 'Beautiful View"………….And the World Certainly Is:-}
My Redbubble Gallery~
Myredbubblegallery
I Made Homepage! April 28th 2011-Thankyou so much RB!
"Testimony of Time"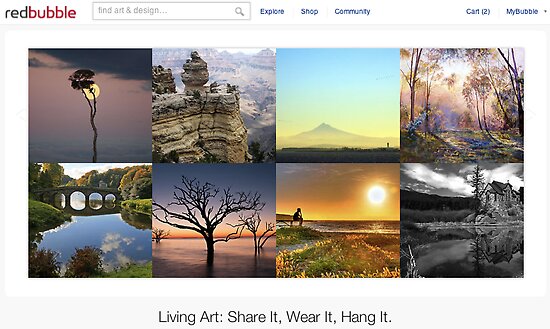 Testimonyoftime
My Camera Equipment


■Canon Rebel Eos 450d xsi
1 Large Tripod- 1 small Bendy Tripod
1 Polrizer Filter-3 UV Filters-lots of caps
58mm Professional HD DSLR mc Af 2x Telephoto Lens Japan Optics
Canon Zoom Lens EF-75-300mm 1:4-5.6
58mmhood
Kenko UV 58MM
Canon Battery Charger
58 mm Professional HD DSLR mc AF 0.45 x Wide Angled w/Macro Japan Optics
Canon Digital IXUS 65 6.0mp
Cleaning Kit
And a Digital Concept Camera Bag
Plus most importantly a "Jam Jar Opener" to get stuck on lens off safely
And Hoping in the future to obtain a Air Cushion Camera Bag and a Macro lens!
Love Canon- Simply the Best:=}
.
All images and writing are copyright © Bellavista2. All The materials contained may not be reproduced, copied, edited, published, transmitted or downloaded in any way, shape or form. All rights are reserved. Copying, altering, displaying or redistribution of any of these images without written permission from the Artist is strictly prohibited.
Laminated Prints
Mounted Prints
Autumn's Legacy

Grand Tetons

Going Home

Sunshine Buttons

Framed Prints

White Winter

Blue Antelope Ripples

Greeting Cards
Sunset On Legacy

Sunbliss