Mercury Bay, Coromandel, New Zealand.
118 views 30/8/10
Many thanks for being Featured in: Sea, Going Coastal, Volcanoes, Earth Geology & Atmosphere
Cathedral Cove framed print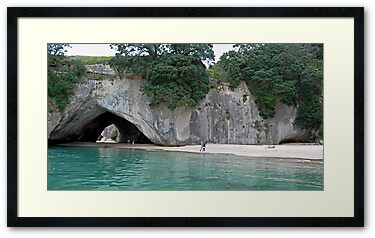 One of the most spectacular sights amongst so many fabulous ones is Cathedral Cove and the huge cave there. Te Whanganui-A-Hei, is the Maori title. Carved by the water from the soft volcanic rock, this is one of the many examples of erosion action along this coastline. This beach and cave is reached eiher by boat, or a rather long walk from the car park at the top of Heihei beach. The cave and beach was used as the tunnel through which the Pevensie children first re-enter Narnia in the movie version of The Chronicles of Narnia: Prince Caspian.
Nikon D40X, 10-20 Sigma.
Please visit me at Bazcelt Gallery
Or: To see my photography by genre/theme, click on the following labels:
Calendars
Featured
Coast
Sunset
Aircraft
Buildings
New Zealand
Lakes, Rivers & Waterways
Rural
Landscapes
Fascinating, but don't fit
Animals & Plants
Black and White, or little colour