I love nothing more than wandering around the beaches of Port Phillip Bay with a camera looking for that special shot.
The local camera club is a great source of inspiration and encouragement. I'm touched by the generosity of others and enjoy sharing skills and enthusiasm with them. Being surrounded by like-minded people is great! Being involved in local, National and International photographic competitions is challenging and rewarding. Last year I achieved honours with the LAPS (Licentiate Australian Photographic Society) and appreciate the terrific support provided by other members to do so.
The journal contains details of the camera gear I use for those who may be interested.
I hope you enjoy browsing the site. There are colour photos, some monochrome and a number of 'creative' images to see.
Don't forget to check out the Seasons Greetings selection to send to family and friends interstate and overseas.
Those of you who've visited my stall at the Sandringham Market asking for photos of the area, please see the Elwood, Brighton, Hampton, Sandringham, Black Rock, Beaumaris and Mentone collections for Bayside photos. Just click on the links on the right of this page to find them.
The map below shows the location of the Bayside suburbs where most of my photos were taken – A (Mentone) to B (Elwood):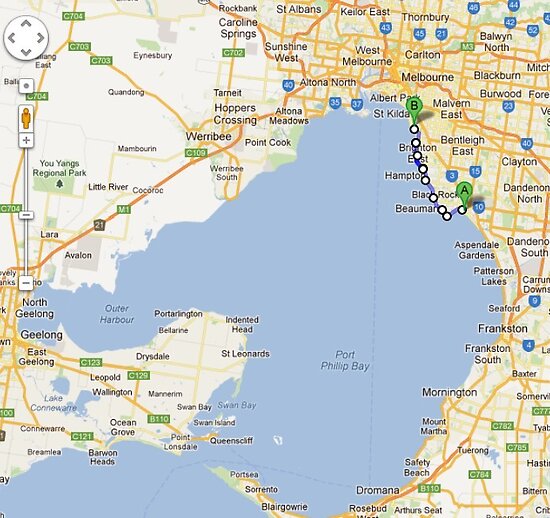 Warm wishes
Teresa