Panasonic FZ 100 hand held, excess dark area cropped from sides to square image
505 views as at 13 December 2012
315 views as at 24 June 2012
More images of BIRDS & WATERBIRDS
Please preview available products by choosing from the menu bar below the image.
FEATURED
Amazing Wildlife … December 2011
The Tropical Zone … December 2011
The Birds … December 2011
Retired and Happy … January 2012
The World As We See It , or as we missed it … February 2012
The World As We See It , or as we missed it … Artwork of the day, 2-13-2012
Photographed from a distance of about six or seven metres, at Batemans Bay, New South Wales,
Australia, in early morning light, against a background of still dark and shaded trees.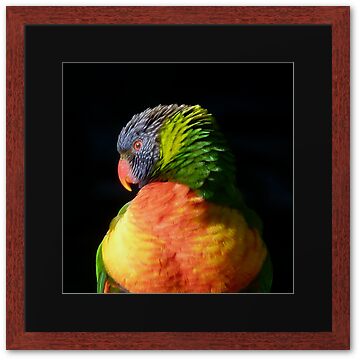 More of my colourful visitors can be seen at the following locations
April Showers
After the Bath
The Daily Bath
Those darn wires!
♥ The Two of Us ♥
Lorikeets Bathing
Plenty to Smile About !
That's MY Coconut Ice!
"I love hanging out among the Banksias."
Rainbow Lorikeet, Trichoglossus haematodus is unmistakable with its bright red beak and colourful plumage. Both sexes look alike, with a blue (mauve) head and belly, green wings, tail and back, and an orange/yellow breast. They are often seen in loud and fast-moving flocks, or in communal roosts at dusk.
The Rainbow Lorikeet occurs in coastal regions across northern and eastern Australia, as well as a local population
in Perth (Western Australia), initiated from aviary releases. They are found in a wide range of treed habitats which
includes rainforest and woodlands, as well as in well-treed urban areas and are largely sedentary with some nomadic
movements in response to seasonal flowering or fruiting of plants.
The Rainbow Lorikeet mostly forages on the flowers of shrubs or trees to harvest nectar and pollen, but also eats fruits, seeds and some insects. They appear to have benefited from artificial feeding stations and prolific-fruiting
and flowering trees and shrubs in urban gardens. They have acclimatised well to urbanisation and are commonly encountered in well-treed suburbs.
The eggs of the Rainbow Lorikeet are laid on chewed, decayed wood, usually in a hollow limb of a eucalypt tree.
Both sexes prepare the nest cavity and feed the young, but only the female incubates the eggs.
Edited from Australian Museum's "Birds in Backyards" website.