Panasonic FZ 100 hand held
533 views as at 18 February 2013
452 views as at 21 December 2012
More images of BIRDS & WATERBIRDS
FEATURED
The World As We See It , or as we missed it … April 2012
Previously titled "And you can stay down there until you can behave …."
Photographed at Jurong Bird Park, Singapore participating in Gymnastics, on high and low bars.
The branches that the birds are perched on are not naturally occurring, they have been utilised in
a man made construction of branches, rocks, concrete and ropes in an open area of the bird park.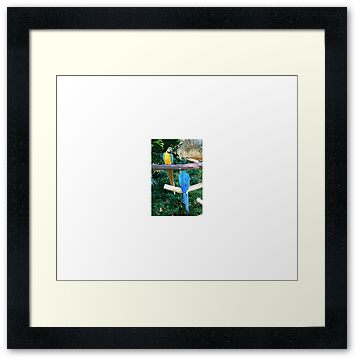 The Blue-and-Gold Macaw : Ara ararauna is a member of the group of large Neotropical parrots known
as macaws. They breed in forest and in more open sections of land, as well as woodland of tropical South
America from Trinidad and Venezuela south to Peru, Brazil, Bolivia, and Paraguay. It extends slightly into
Central America, where it is restricted to Panama. It is an endangered species in Trinidad and is on the
verge of being extirpated from Paraguay, but still remains widespread and fairly common in a large part of
mainland South America. There is also a breeding population in Miami-Dade County, USA. It is therefore
listed as Least Concern by BirdLife International.
These birds can reach 76–86 cm (29.9-33.9 inches) long and weigh 900 to 1300 g (2-3 lbs). They are vivid in
appearance with blue wings and tail, dark blue chin, golden under parts and a green forehead. Beaks are black
and very strong for crushing nuts. The naked face is white, turning pink in excited birds and is lined with small
black feathers. They generally mate for life. The nest is made in a tree hole and the female typically lays two or
three eggs and incubates them for about 28 days. The chicks fledge from the nest about 90 days after hatching.
Edited from Wikipedia.