Panasonic FZ 100 hand held
558 views as at 23 June 2013
479 views as at 16 April 2013
More images from EUROPE & RELIGIOUS ART
This magnificent art may be seen on the ceiling of the Church of San Pasquale Baylon,
in Trastevere, Rome, Italy.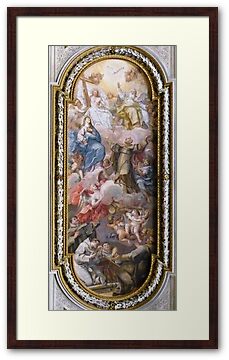 Dating back to the 12th Century, the Church was rebuilt in 1486 and restored in 1608, with
more restoration work being done in the 18th Century, when it was dedicated to Pasquale
Baylon (24 May 1540 – 17 May 1592) who was a Spanish friar and is a saint in the Catholic
Church. He is the patron saint of Eucharistic congresses and Eucharistic associations.
Information : Wikipedia