Panasonic FZ 100 hand held
546 views as at 6 April 2013
366 views as at 11 December 2012
More images from EUROPE & RELIGIOUS ART
FEATURED
Art and Ink so Free … August 2011
Mustard Seeds and Lilies … September 2011
Islands of the World … September 2011
Artist's Universe … September 2011
A decorative frieze on the centre of the ceiling of St. Blaise Church, Calenzana,
on the French Island of Corsica. A large crack is visible at the top of this shot,
many smaller cracks are evident on close inspection of the background (ceiling).
The rather plain exterior belies the more ornate interior of the Church.
Construction of this village Church was commenced in 1691, but it was not completed
for sixteen years. Subsequently, 1722 saw the appearance of Acanthus leaf topped
capitals and the high altar was added in 1750. At the time of our visit (July 2011)
restoration works were in progress using time honoured building methods.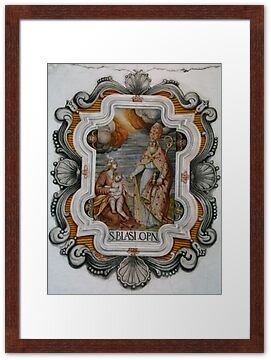 Information on the Church and it's decorative works appears to be limited on the
internet. Dates were sourced from Google Books.