Panasonic Lumix DMC FZ 100
587 views as at 7 September 2011
More images of BUTTERFLIES, MOTHS & CATERPILLARS
Link to a short video of the little muncher
http://www.facebook.com/home.php#!/video/video....
Australasian Privet Hawk Moth Caterpillar, photographed at my home at Batemans Bay on the south coast of New South Wales, Australia. Title inspired by the name of a favourite book of my younger grandchildren :)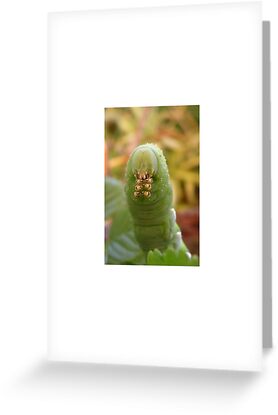 An easily identified large green caterpillar with straight dark horn on tail and seven white diagonal stripes on each side of its body. The stripes are shaped like small long leaves with a stem. One outer edge of each stripe looks like a shadow, and is coloured like the caterpillar's straight tail-horn — somewhat dark plum or brownish. The last stripe runs into the horn on the tail. The caterpillar's head is covered in tiny white bumps.
Size: 6 or 7 centimetres (2 to 3 inches).
They like to blend into background to hide their munching destruction of the garden greenery, in spite of which, I returned him to his home!