Nikon Coolpix P80 hand held
1635 views 9 June 2014
482 views 15 April 2012
More images of BUTTERFLIES, MOTHS and CATERPILLARS
Please preview available products by choosing from the menu bar below the image.
FEATURED
Closeups in Nature
Redbubble Featured Photography … March 2013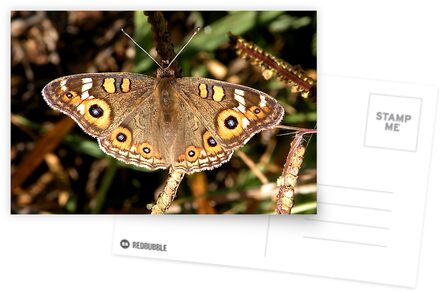 Photographed by the roadside somewhere between Canberra and Bungendore, Australia, where I had stopped to photograph something completely different!
Meadow Argus – Junonia villida
The Meadow Argus is a brown butterfly with two prominent orange and black eye spots on each wing. The eyespots are a defense mechanism that are not only used to frighten predators away, but also to confuse the predators into thinking that the eyespots are the target, allowing the butterfly to escape with only a small part of the wing being lost.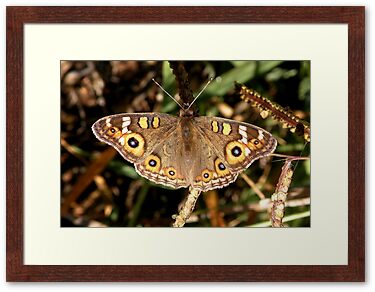 They have a wingspan of 40mm to 55mm and are usually seen within 1m of the ground, often at rest on the ground with wings open. As the butterfly rests, it can sit in four different positions depending on the current situation. These positions include:
If the sun is shining, the butterfly will open and relax its wings
If danger approaches while in the sunlight the butterfly will open its wings further revealing eyespots on its hindwings
If the sun is not shining the butterfly will close its wings
If danger approaches while there is no sunlight the butterfly will raise its frontwings revealing hidden eyespots
Meadow Argus butterflies are found in many habitats across much of Australia, including woodland, grassland, and drier interior as well as suburban gardens, feeding from a wide range of food plants. They are more commonly seen in warmer months.
Information from observation and various internet sources.