Nikon Coolpix P80 hand held, collage created in Picasa 3.
1344 views 22 May 2014
520 views as at 20 March 2012
342 views as at 14 November 2011
More images of BUTTERFLIES, MOTHS & CATERPILLARS
Please preview available products by choosing from the menu bar below the image.
FEATURED
Cee's Fun Artsy Friends
Bits and Pieces
Bubblers Weekly Challenge
100 to 499 Views … November 2011
Photographed at Denhams Beach, New South Wales, Australia.
I have long envied the ability of others to produce beautiful images of butterflies, as they always seemed to be too quick for me!
However, my Buddleja, more commonly known as the Butterfly Bush, having recently been liberated from the shadow of a larger growth, now attracts a greater variety of butterflies than I have previously seen at my home. And some of them sit long enough for me! The beautiful Orchard Swallowtail remains a bit elusive and the Australian Monarch prefers the higher blooms.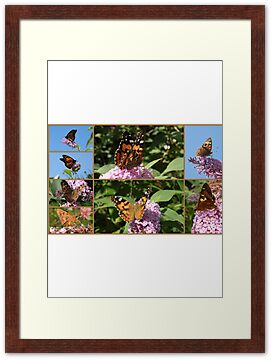 Australian Monarch
Meadow Argus
Painted Lady
Splendid Ochre