Panasonic FZ 100 hand held, small crop, sharpened in Picasa 3
Detail above the door facing the Baptistery.
433 views 26 May 2014
More images from EUROPE and ARCHITECTURE and RELIGIOUS ART
Please preview available products by choosing from the menu bar below the image.
FEATURED
Everyday Women … June 2013
Mustard Seeds and Lilies … June 2013
Living Christianity … June 2013
"Real" Life Photography … June 2013
The World As We See It , or as we missed it … June 2013
Italian Cities … October 2013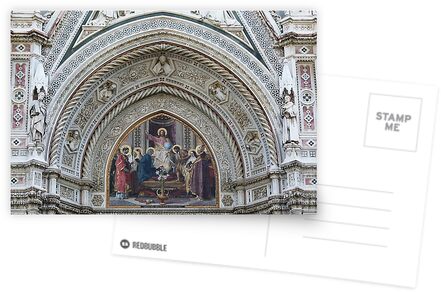 Basilica di Santa Maria del Fiore was built on the site of an earlier cathedral. Construction of the
magnificent Cathedral was started in 1296 and completed structurally in 1436.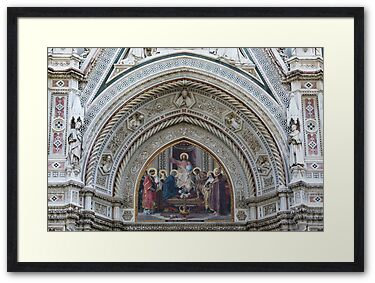 As well as the Cathedral building, the cathedral complex in Piazza del Duomo includes two other
buildings, the Baptistery and Giotto's Tower. The three buildings are part of the UNESCO World
Heritage Site which covers the historic centre of Florence, Italy.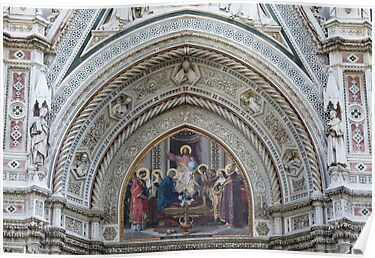 Poster
The exterior of the basilica is faced with polychrome marble panels in various shades of green
and pink bordered by white and has an elaborate 19th-century Gothic Revival façade. It is
currently undergoing the massive task of cleaning and the difference is amazing.