Cave of the Dragon-tongued Tendrils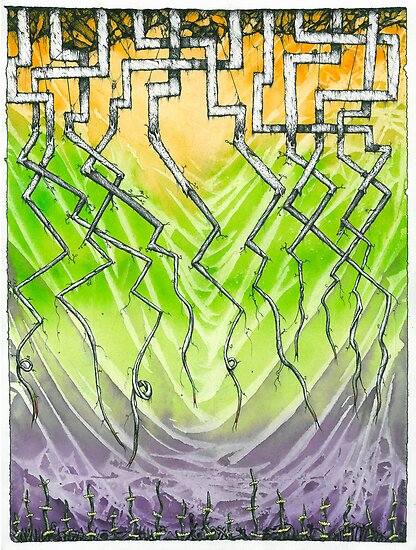 Professor Sayers' boots squished on the dark, soft earth as he continued down the slight incline towards the edge of the thick forest. Scrambling over the rocks that scattered the base of the ancient volcano had been more difficult than the 55 year old biologist would like to admit. His lungs were burning and his legs screamed out as if he'd just run the last 300 yards of a massive 50k marathon. Sayers' tongue felt thick and dry in his mouth and his head had begun throbbing, as if on the verge of a terrible migraine.
"It's a good thing I got out there when I did," he thought to himself.
Unable to clear his dizzying head, he sat down on a massive hunk of obsidian and retrieved his canteen from the knapsack he had slung over his shoulder. There were hundreds of these massive black igneous monoliths within eye sight. Many of them were easily larger and heavier than the armored 4×4 HUM-Vs that the small exploration team had been riding in yesterday. He'd never seen or heard of such tremendous concentrations of monstrous volcanic rocks so close to the surface. Most veins of the glass-like stone were found in crumbled, sprawling fields where ancient lava once flowed.
"Sayers checking in – I've just reached the base of the mountain. I should be back to camp shortly. You won't believe what I've found. " he spoke into the headset attached to his belt-clip transceiver.
The professor took a few sips from the canteen and returned it to his pack; all the while his eyes scanned the enormous conifers before him. He was truly blown away by the grandness of the landscape they had journeyed into. He'd heard that they were to explore a remote part of the lower Siberian Traps, part of a huge swath of Boreal alpine forest that was reported to be some of the oldest virgin growth remaining on the planet. Sitting there now, in the shadows of the giant evergreens, gave the aging man an unsettling feeling of wild primordial danger.
Wanting to shake the feeling, he stood and hefted the bag onto his shoulder still in disbelief at its contents. How long could those vines of been living there? Surely what he'd seen in the cave had an explanation, something simple. But what about the bones …
---
Fifteen minutes later Sayers came into the clearing where the three man team had set up camp. The sun was beginning to sink behind the mountains, painting the sky in colorful shades. He would have thought it a beautiful scene if he wasn't presently completely freaked out by this place.
Thomas Dent, the guide and equipment specialist, looked up from the fire he'd just started. He saw the lank figure of Prof. Sayers walking towards him. Sayers looked ill. Dent couldn't be sure if it was from exhaustion or fear or both.
"Glad to see you back before dark. I was about to come looking for ya." Dent said, an easy grin crossing his face, "Hey, you feeling alright doc?"
"It's professor, Thomas. Uh, like I said before," responded Sayers distantly. "And no, not feeling all right. Can't shake this headache," he said, sitting down heavily on one of the three collapsible chairs around the fire.
"Headache huh?" asked Martin Findes, the third member of the team as he emerged from the large central lab tent. "Oxygen levels around here are much higher than I would expect. There's something unique happening, or my crap gear is on the fritz," chuckled Martin. He alone laughed at the sarcastic joke regarding the equipment. He'd of course spared no expense.
Martin was a bio-chemist by degree, but an explorer by passion. He didn't consider himself scientist material but even when avoiding exposure in the scientific community, he'd still found himself at the center of many of the decade's greatest discoveries. An independently wealthy heir, he'd funded this trip to Siberia based on a heavily publicized interest in saving old growth forests, "for future generations!" The truth, however, was that he'd heard fantastic stories of a sort of land-locked Bermuda Triangle where massive electromagnetic anomalies occurred. Planes disappeared mid-flight, military regiments lost during training excursions. The area was also considered prime territory for yetis, at least amongst circles concerned with such matters, which Martin was. He wanted to see something remarkable here in this forgotten place.
"So what did you find out there Sayers?" asked Martin.
"A cave," he replied, "3 miles from here. About 200 feet up the side of this ancient volcano we are camped out at the base of. "Damn place stunk of death like you wouldn't believe."
The professor dragged his knapsack over in front him, carefully opening the largest zippered pouch as he went on. "I was able to walk in through the mouth and after a few yards the inside opened to a massive cavern. The ceiling was covered with these," and he produced from the bag a 3-foot section of strange greenish-red vine. It looked to have been cut from a longer portion.
"It appears to be some sort of carnivorous vine. This end here was the lowest part dangling from the ceiling," he un-wrapped the vine in his lap and held up the bright red tip. It came to a split end that resembled the forked tongue of a dragon or snake. Martin kneeled by Sayers' chair and Thomas came up behind, looking over their shoulders at the odd plant.
"It's quite sticky," commented Martin, inspecting the forked end.
"I suspect that's mucilage. It's what flypaper-trap plants use to capture insects," said the Professor. "They may be thigmotropic too. I noticed a few were coiled up near the ceiling, perhaps with a catch. But this is nothing, here set it over there," he handed the vine to Martin, who laid it on a nearby table.
"When I panned my light out across the floor of the cave," Sayers paused, replaying the events in his mind, "I saw bones. Skeletons and bones just piled up all over. Didn't have much time to look around though; cause after only a few minutes inside my air-quality badge went off, full red."
"Carbon Monoxide?" suggested Martin.
"It would seem so and very dangerous levels at that. I'm guessing it's being produced by the volcano despite its' relative dormancy. When I got back to the opening the air had improved so it seems to just be pooling up along the bottom of the cavern," Sayers stopped and scratched his head. "If I had to venture a guess, I'd say that cave is a natural, gas-chamber. Some poor beast wandered in there and died, who knows how long ago and countless other scavengers have followed suit since then."
"Gruesome," added Thomas.
"So these vines are probably living off the inevitable influx of carrion-loving insects, crazy" Martin said, standing and looking back at the sample on the table.
"Aye, it gets better though. I grabbed this off the floor before I left," he reached into the bag again. This time the Professor produced a huge skull, a skull with two very big and very distinctive fangs.
"My god," gasped Thomas when he saw it.
"Yeah, and I'm pretty certain this is actually the skull of a Smilodon. The ancient, extinct saber tooth tiger."
Sayers stopped and grinned at them, "But the craziest part…" and Martin seemed to have the same realization as he heard the words, "…this is not a fossil."