The "Just Married" series, Part 1...
After getting married a few years ago and beginning to see my friends and family going down similar paths I got to thinking – what would I want to tell others about joy and marriage and making a relationship work?
In my ruminating over the topic I took pen and watercolor to paper and I started creating the Up an Away Couple. I wanted to remind future couples that they should always remember how much fun one another can be. Make joyous times whenever possible and leave happy memories everywhere you go. So this first free-wheeling, hot-air-balloon couple lays the ground work for a series of pictures about fun-loving couples embarking on the new adventure that will be the-rest-of-their-lives.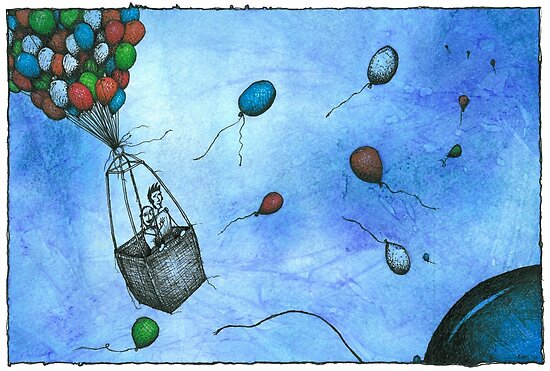 Read more about the rest of series…
Part 2 – Cave Couple – Journal entry