791 Viewings as of 8/13/13
Featured 1/1/12 in Apophysis Tutorial Fun
Featured 1/1/12 in The Best of RedBubble
Featured 1/11/13 in ART UNIVERSE
Featured 1/26/13 in 500 to 5000 Viewings
Top 10 in Apophysis Tutorial Fun group's "Pure Apo" Challenge 1/30/12
4th Place UNC CHANL Art Competition 2012
Created in Apophysis 7x v15 as an elliptic splits tweaked (Julian2 power3 and neg bipolar curl with a different gradient) from flame parameters used in this previous work: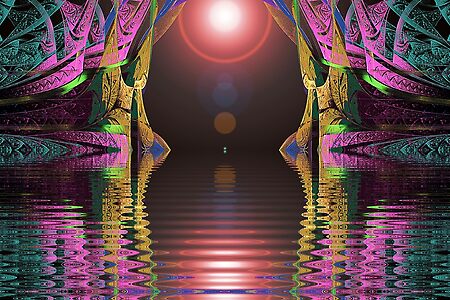 Elliptic Splits Tunnel of Love (UF0267)
by barrowda
. This image was inspired by this tutorial in the Apophysis Tutorial Fun group, and created as a pure Apo flame with no postwork as a possible entry in the group's upcoming challenge. Best if viewed larger.