1818 Viewings as of 1/13/14
Featured 7/6/11 in The Ultimate UF5 and Beyond
Featured 7/12/11 in Fractal Perception
Featured 7/15/11 in Digital – Art at its Best
Featured 8/12/11 in Digital Abstracts and Patterns
Top 10 8/15/11 in Your Best Digital Abstract Art
Challenge: Digital – Art at its Best
Featured 12/2/11 in Southern United States Artists
Featured 1/30/14 in Abstract/Surreal Art
Featured 3/25/14 in The X-Factor
One of my original apo images (see below) was used in three blended layers in Ultra Fractal 5.04 (each containing unique object transformations, distortions, magnification and rotation) to create this novel image in a process I will now call The UF 3 layer Blender.
Created from this previous image: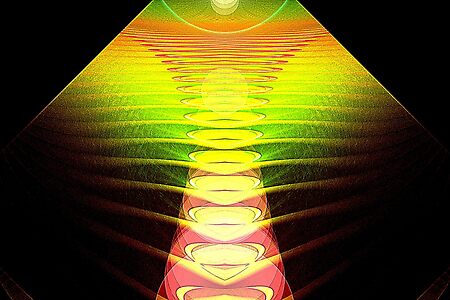 Disc Julian #12: Path to Enlightenment (UF0358)
by barrowda
which was created for the Disc Julian tutorial by Fiery Fire in the Apophysis Tutorial Fun group in Apophysis v7x15 , with added gradient flare in GIMP, and final render in UF. Best if viewed larger.