152 Viewings as of 1/5/12
Featured 4/8/11 in The X Factor
Featured 5/21/11 in Apophysis Tutorial Fun
The alternative version of this image with a black background can be seen as the backdrop of this montage: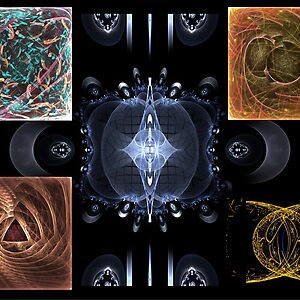 Blue Light Special Julian plus 4 Eschers (UF0208)
by barrowda
Created in Apophysis 7x v14 following this tutorial in the Apophysis Tutorial Fun group. Rendered as a .png file, then blended with duplicate layers and a white background in GIMP v2.6, then saved in .jpg format, finally scaled up in UF, with slight color adjustment in MS Paint. Number 18 in a series of images generated with the instructions in this tutorial called JuliaN Set Outline, using rectangles in the final transform. Best if viewed larger.