Featured 4/22/11 in The Magic of Mirror Images
Rushing together under the influence of powerful magnetic forces, these fractal elements seem poised for high-speed collision.
Created in Apophysis 7x v14 following this tutorial in the Apophysis Tutorial Fun group. Rendered as a .png file, then blended with duplicate layers, including layers rotated 90 degrees, plus miniatures of two other works (see below) and a black background in GIMP v2.6, then saved in .jpg format, finally scaled up in UF, with slight color adjustment in MS Paint. Twelfth in a series of images generated with the instructions in this tutorial called JuliaN Set Outline. Best if viewed larger.
Includes four copies (at various rotations) of this piece: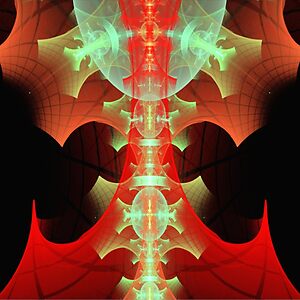 Scarlet and Silver Spine (UF0167)
by barrowda
and in the center: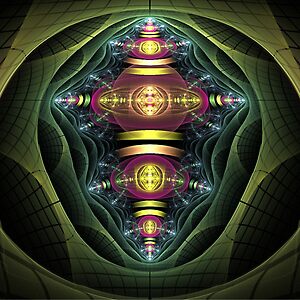 Getting in Touch with My Inner Robot (UF0166)
by barrowda