Note: All images in this series may be found in the Wall Art collection on our page.
Cape Girardeau Missouri, USA sits on the Mississippi River in Southeast Missouri. There is a long concrete flood wall all along the down town area, between the river and the town. It has gates that can be closed during floods to protect the buildings along the river front.
Painted on the south end of the Mississippi River Flood Wall at Cape Girardeau are larger than life size character images of famous people from Missouri. This 500 foot long by 15 foot tall wall mural depicts 45 famous individuals who were born in Missouri or achieved fame while living in the state.
Tennessee Williams (1911 – 1983) was born in Columbus Mississippi. An acclaimed Southern playwright, he attended the University of Missouri and Washington University. His better known works include the Glass Menagerie, cat on a Hot Tin Roof, and A Streetcar Named Desire.
Kate Chopin (1851 – 1904) is a native St. Louisan best known for her feminist novel, The Awakening. While her writings drew criticism during her lifetime, since her death, she has received critical acclaim and been recognized as avant grade. ~ ("advance guard" or "vanguard" ~ (refers to people or works that are experimental or innovative, particularly with respect to art, culture, and politics.)
T.S. Eliot (1888 – 1965) born in St. Louis Missouri. He is considered by some to be among the most influential authors in the early part of the 20th century. He won the 1948 Nobel Prize in Literature. His poems, The Waste Land and The Love Song of J.Alfred Prufrock are studied by thousands of students annually. One of his poems inspired the Broadway hit Cats.
The mule is the offspring of a male donkey an a female horse. Many Missouri farmers with clay soil found mules superior as plow animals. Their unyielding determination t plow forward let to the expression"stubborn as a mule.
Missouri Mule Panel Sponsors: John, Jerrianne, and Muriell Whman.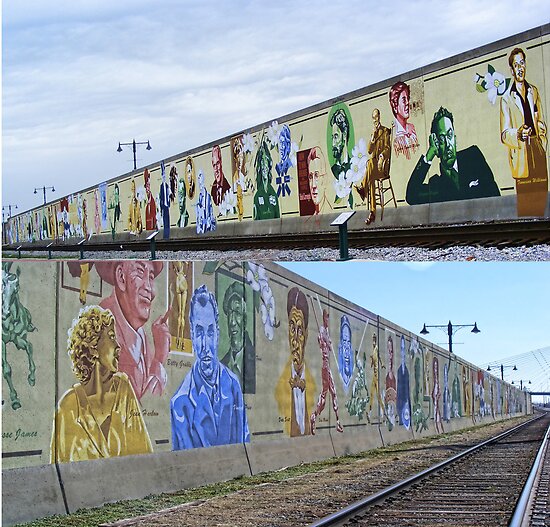 This is another project of the River Heritage Mural Association. The River Heritage Mural Association was organized in 1987 and has been responsible for the painting, repainting and maintenance of 7 murals around Cape Girardeau including the Missouri Wall of Fame and Mississippi River Tales. The Association Board included Tim Blattner, Freck Shivelbine, Don Greenwood, Paul Lloyd, Craig Thomas, Chuck Martin, and Narvol Randol, Jr.
The original design for this mural project was done in 1995 by Margaret Randol Dement. It was restored in 2006.
The Thomas Melvin Portrait Studio from Chicago Illinois supervised the art work. The artist who contributed were: Thomas Melvin ~ Cameron Pfiffner ~ Marian Voinea ~ Craig Thomas ~ Amanda Thornberry ~ Scott K. Kelley ~ Ryan Hammond ~ John Brooks
Note: All of the art on the flood wall at Cape Girardeau Missouri is copyright protected. I have permission from the copyright owners to show my images of this art, however none of it is for sale.