Note: All images in this series may be found in the Wall Art collection on our page.
Cape Girardeau Missouri sits on the Mississippi River in Southeast Missouri. There is a long concrete flood wall all along the down town area, between the river and the town. It has gates that can be closed during floods to protect the buildings along the river front.
This panel depicts the Great Flood of 1927 which resulted in the Jadwin Plan, which developed levees and walls on both sides of the Mississippi River from Cape Girardeau to the Gulf of Mexico.
The River Heritage Mural Association had artists (listed below) paint the entire wall with historic scenes. The scenes are called the "Mississippi River Tales". This is the nineteenth Panel in the series.
The cut stone wall you see here is actually painted on the smooth concrete wall. Then the historic scenes are painted over the cut stone look art. The entire Wall Mural has an 18,000 square foot painted area, is 15 foot tall and 1,100 feet long.
*This panel sponsored by ~ Unknown, to be found and added at a later date.
Designed and Painted by Thomas Melvin Painting Studio Chicago
Artists include ~ Thomas Melvin ~ Cameron Pfiffner ~ Gary Borremans ~ Craig Thomas ~ Megan Thrower ~ Amanda Thornberry ~ May Melvin ~ Ian Caldwell ~~ Painting of the Murals started in October 2003 ~ (Sketches were started the year before) ~ Completed December 2004 ~ The Wall Murals were Dedicated July 7, 2005
Cape Girardeau Missouri Convention and Visitors Bureau ~ 400 Broadway Street ~ Cape Girardeau, MO 63701-5636 ~ (573) 335-1631
Fuji Finepix S5800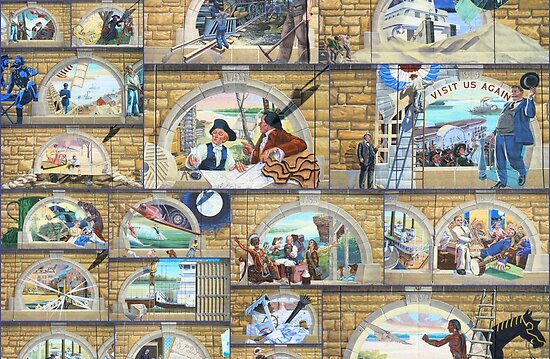 Note: All of the art on the flood wall at Cape Girardeau Missouri is copyright protected. I have permission from the copyright owners to show my images of this art, however none of it is for sale.