If you ever visit St. Louis, Missouri this is a definite must see. It is open to the public daily and photography is allowed except when mass is taking place.
This huge Cathedral covers most of a city block just west of down town St. Louis. The planning for this huge construction began in the 1870s and ground breaking was done on May 1, 1907 with the laying of the building cornerstone on October 18, 1908. The full consecration did not take place until June 29, 1926 – nearly 60 years from conception to completion.
The interior of the Cathedral is dimly lit. I did not want to disturb the worshipers you can see sitting in the front pews so I didn't use a flash for this image. However this will give you a the size perspective for the interior size and an idea of the mosaics decoration.
Sony Cybershot/Super SteadyshotDSC 12.1mp on auto – As Is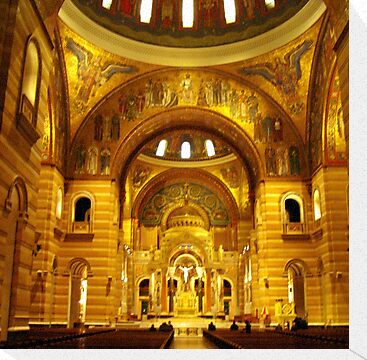 More images of the mosaics will follow.
Almost the the entire interior surface of the Cathedral is covered with mosaics. In 1912, they started the installation of mosaics in the interior. The mosaics were not completed until 1988, the mosaics collectively contain 41.5 million glass tesserae pieces in more than 7,000 colors. Covering 83,000 square feet; this mosaic collection is one of the largest in the world and the largest in the western hemisphere.
This church is so huge and in a down town location so the only place to get a full front view is from across the street. I was leaning against the front wall of the building there to be able to get the entire building in the frame. My Sony is the only camera or lens I have that has a wide enough angle lens for this shot. ☺
1431 Views as of 6/20/12