I made a batch of jammy muffins today, and enjoyed some with a cup of tea. Recipe below:
*Barb's Jammy Muffins
1 and 3/4 cup flour
1 and 1/2 tsp baking powder
pinch salt
1/3 cup vegetable oil
200ml milk or buttermilk
2 eggs
1 tsp vanilla extract
1/2 cup frozen raspberries
2 tblsp raspberry jam
Sift flour, baking powder and salt into a large bowl.
Beat eggs together with oil and milk, add vanilla extract.
Pour wet ingredients into dry ones, mix quickly and lightly with a metal spoon till just combined. Place a large spoonful into each of 12 large muffin cases, then spoon some raspberry jam and a couple of frozen raspberries into the centre of each one. Cover with another spoonful of muffin mixture.
Bake at 200 deg Celcius for 20 minutes, until well risen and golden. Remove from oven and let cool for 5 mins before removing from muffin pan.
Melt a little butter in the microwave. In another bowl, mix together 1/2 cup sugar and a tablespoon of cinnamon. With a pastry brush, spread melted butter onto each muffin, and sprinkle cinnamon and sugar mix over each one. Set aside to cool.
Enjoy!*
Canon 40D, Canon 24-70L, onboard flash.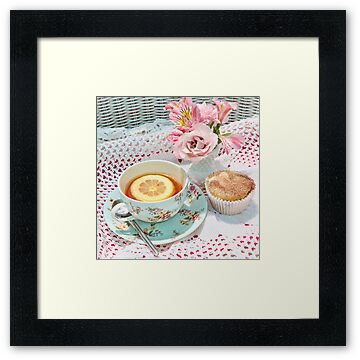 *This image featured in Cottage Style in February 2010. Many thanks!
And another feature in Cups, Mugs and Saucers in April 2010. Thank you moderators!*
A feature today in Recipes along with photo in Sept 2010. Thanks moderators!
And featured in Domestic Art in Feb 2011. Thank you moderators!