*Early morning mist surrounds the farmhouse at Belvedere, near San Quirico D'Orcia, Val D'Orcia, Tuscany, Italy.
Featured in 'Moody and Evocative' Group.
Featured in 'Visions of Italy' Group.
Featured in 'This, that and the other thing' Group.
Featured in 'A Paradise Somewhere' Group.
Featured in 'No.1 Favourites' Group.
I knew this scene had been photographed a million times before, so I tried to avoid this particular spot. However, the view was so magnificent, I couldn't resist, especially when I arrived at dawn to see this very photogenic mist drifting through the valley. I felt the high contrast scene would work particularly well in Black and White, and hoped this treatment would help it stand out from the millions of other photos of this famous farmhouse.
If you'd like to see more of my Tuscany images, or would like a panoramic version of the image available here, please visit my website, www.bananapancake.com.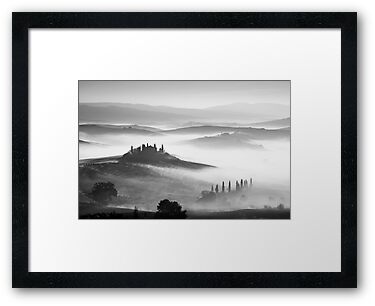 COPYRIGHT INFORMATION
The images herein do not belong in the public domain. All images are copyrighted to and owned by Banana Pancake Ltd and may not be copied, edited, published, uploaded or used for any purpose whatsoever, commercial or otherwise without the express written permission from the photographer, Justin Foulkes.
© Banana Pancake Ltd 2013. All rights reserved.