A Roseate Spoonbill – Ajaia ajaja
What an awesome bird….. on a recent shoot with fellow bubbler, noffi, we had the opportunity to sit for hours and watch a colony of Spoonbill's preen in the Ding Darling Preserve, Sanibel Island, Florida…… Just the day before I had added "shooting a Roseate Spoonbill to my Bucket List"….. what a fantastic day!!!!
The Spoonbill has a white head and chest with light pink wings with a dark pink fringe…..so beautiful to see!!! Their long legs are pink also.
They live in mangrove swamps, tidal ponds, saltwater lagoon and other areas with brackish water.
According to other written information, like the flamingo, the roseate spoonbill's pink color comes from the food it eats. They have touch receptors in their bills to help them catch food… and the swinging back and forth of its open bill in the water helps to sift up food like small fish, shrimp, mollusks, snails and insects.
That was another special day among my RB friends….. I have much to learn and everyone is so helpful, even strangers become friends when one holds a camera in their hands!!! Wonderful moments and memories!!!
It's not over between me and the Roseate Spoonbill's…… I'll return for another day of shooting…. hope they will reciprocate!!!!
Thank you everyone for your great support…. so nice to have your visit and comments!!!
Much love,
Brenda
aka Jazzy
P.S. I won't tell you how many shots I took…. LOLOL unbelievable!!!!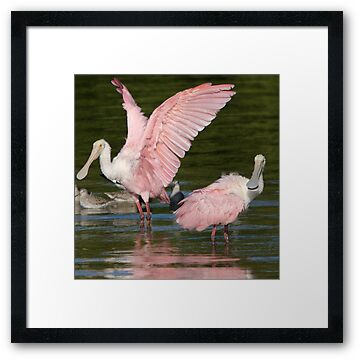 !
CANON REBEL XTi
Signa lens: 125-500mm
ISO: 800
F/7.1
Shutter speed: 1/4000
focal length: 500mm
Monopod in use
Slight crop only
!