I would like to introduce you to Chief, an Alaskan Husky, owned by our friend Lindy.
Lineage:
Mother: Dundee, from Quebec – Longschamps/Aubut
Father: Jones – Heywood Kennel – son of Solo
Lines from Barry Dana, former chief of the Penobscot Tribe.
.
The images you are about to see, will tell you of the first run for this amazing 6 month old pup, Chief.
Please bear in mind that when you see text darkened that these are the assumed thoughts by Chief himself…lol……. Are we having fun yet?
Hang on, because you are also seeing my first Sled Dog Run…. what a great time…. so is everyone ready Let's go!!!! Please remember that Chief has never been harnessed to a line, or been included in this adventure so you will be seeing his very clear "inquisitive expressions"!!!! Oh and Yes, his excitement….. Now we're ready!!!!
.
Before a run, there is much thought into who will be selected to go. The "seasoned runners" are all barking with excitement as if to say, "Mommy, pick me! Pick me!" It was really a cacophony of sounds.
Chief didn't know what the excitement was all about…but you will see that he is a very quick learner. This is Lindy preparing to lift him to his feet and take him to the run.
Chief was not used to a harness on his back, so he would try to bite at it…. but that was not going to happen as that is dangerous to the dog and to the others on the line if biting was not controlled… so at every attempt, Lindy would reach deep into her throat and say,"AKT! AKT!"….. After a few times, Chief got the message and when he forgot about the harness being there, or at least tolerated it, Lindy got down to praise her dog for his good behavior.
I LOVE IT WHEN MOMMY SAYS NICE THINGS TO ME !"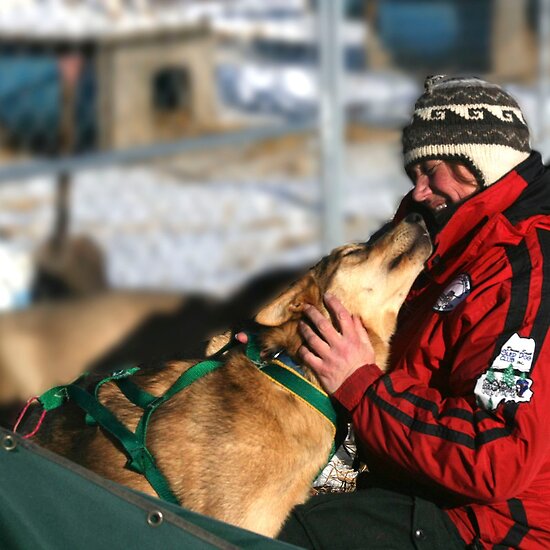 !
With all the dogs selected and now on the run, the seasoned runners are waiting, controlling their excitement, just waiting for the sound of the brake release… but Chief is standing there saying, " I WONDER WHAT'S UP?"
Then Lindy asks, "Everybody ready?" And they're off…………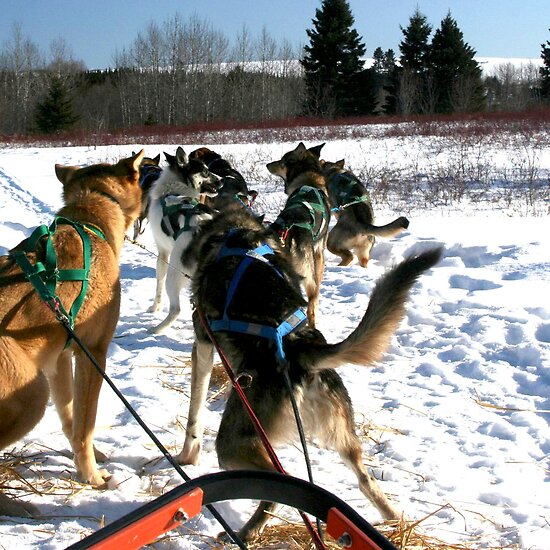 !
It didn't take Chief long before he caught on that this was supposed to be fun and He kicked up his heels and dug in to do his part.
YAHOOO…. LOOK AT ME EVERYONE!!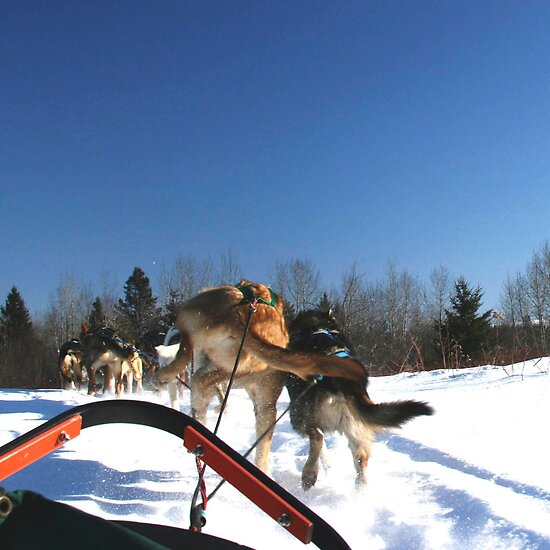 !
Chief began his first run on the left side of the line, but it didn't take him long to let Lindy know that he preferred the right side…. and look at his even stride.. moving right along with the others.
I THINK I'M GOING TO LIKE THIS!!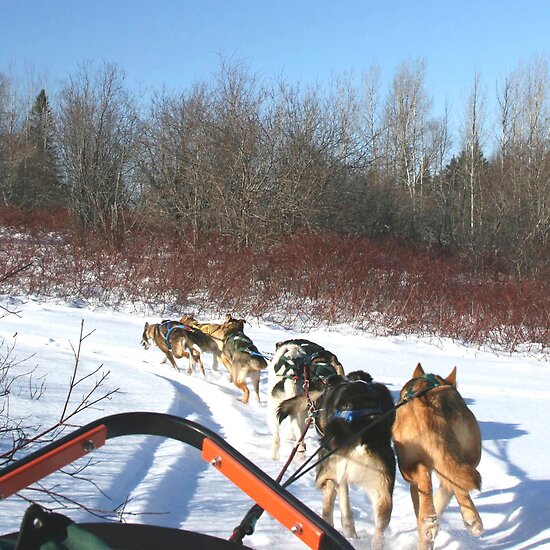 !
With all the dogs running as a team, I settle down to enjoy this pace…. content I was in the sled under the canvas covering. Amazing to feel and to see these beautiful animals so happy at their work.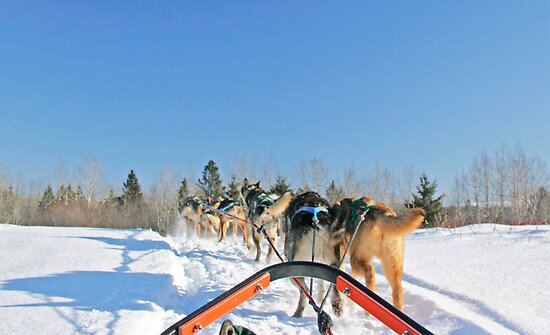 !
Now it is time to head home. On the turn by the house, as we approached it on each pass , Lindy would speak to Autumn, one of the lead dogs, "Haw Autumn, Haw"!! And little Autumn would take her team around the corner to the left and away from the house. But alas, it was time to go home. Approaching the last turn Lindy speaks, " G, Autumn, G!" and she turned her team to the right…. and on up the hill to home.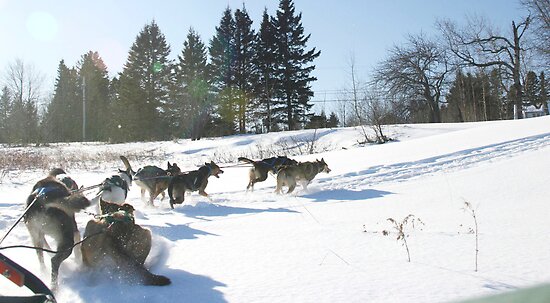 !
All the dogs are so pleased with their run, yes, even Chief. Stopped and content on their line, the dogs all wait for Lindy to bring them refreshment – water with fat, kibbles, and supplements. Only the new one was unaware of what would happen next…. Please note, he's the one in the back of the pack looking over the heads of the rest of the runners, his tongue hanging out , wanting to know, "WHAT'S UP?"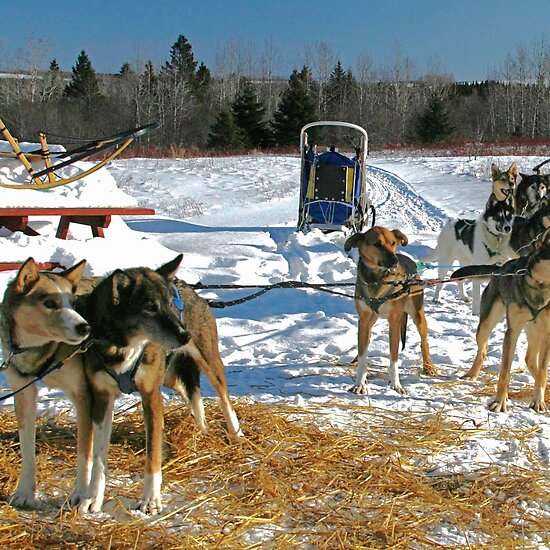 !
After the refreshment, and allowing the dogs to stay on their line to remember this time out together, Lindy, one at a time hugs each dog and takes them to their kennels. You already know how Lindy praises her dogs… and after this grand run of Chief's, she laughs and praises him and he will remember this day, of the fun and the grand time on the trail and he will dream tonight of going again!!!
DID I DO GOOD MAMA??"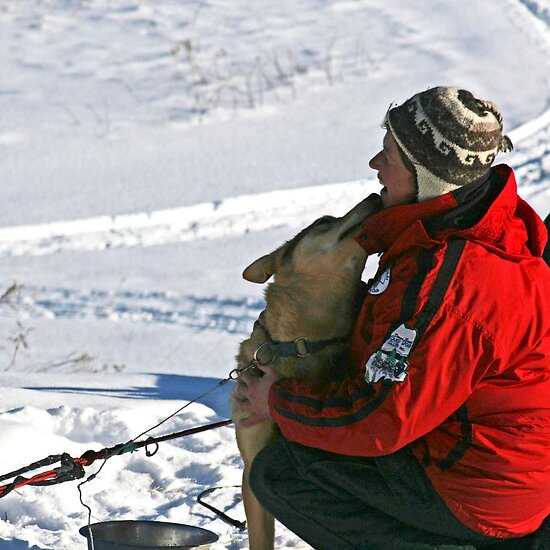 !
I would be remiss if I did not mention all the other dogs… special they are and I love them all…… beautiful friends to have!!!!
Autumn / Solo
Feather / Aliy
Peanut / Ticker
Logan / Chief
I want to say Thank You to Lindy and to all "MY TEAM"…. you better believe I fell in love with these wonderful dogs and I will be back!!!