Gato Barbieri's silhouette
225 views as of 12th June 2011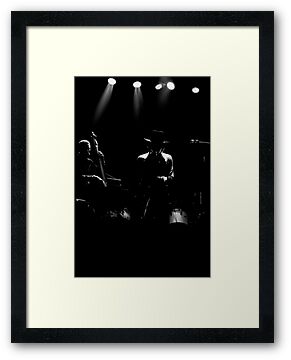 Silhouette of Gato Barbieri with bass player, Ron Carter, at the Village Gate in New York 1976c.
The Village Gate was situated on the corner of Thompson & Bleecker Streets in Greenwich Village. The atmosphere in the 70's was always very special with jazz and salsa musicians playing like there is no tomorrow… We were sitting near the stage and Gato sat with us for a few minutes between sets. The club closed down in 1993.
Hand held manual SLR Canon TFb, Kodak ASA 400 possibly pushed to 800 but unsure. I developed all my negatives at home but couldn't print as my parents (and the landlord) didn't want me to paint my room BLACK!
The negative was scanned at 4800dpi. No print was ever made from this neg so it's only 35 years after taking this photo that I see it for the first time. Some clean up, minor crop, minor levels in CS2.
Featured in
~ Moody & Evocative Easter Sunday 24th April 2011
~ Love Affair With The Lens 28th April 2011
~ In The Shadows 16th May 2011 (group active until end of May 2011)
~ If it doesn't belong and used in The Art of Silhouettes challenge 28th May 2011
~ A Love of Canon 31st May 2011~ Featured in The Magic of Black and White 12th June 2011
~ B&W Photography 4 You 20th July 2011
~ Amongst Top Ten in YOUR BEST MUSIC OF THE SPIRIT WORK challenge in Music of the Spirit 7th August 2011
Below is LamontCJ's upload to youtube. Enjoy…
More info about the Village Gate on Wikipedia here
and info about Gato (Leandro) Barbieri born in 1932 here