The Good Hope is an old fishing boat that is berthed on Skippool Creek which is a tributary of The River Wyre close to Poulton Le Fylde Nr. Blackpool.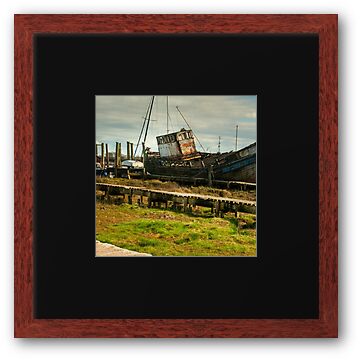 4 shot raw file HDR, processed in Photomatix with further adjustments in Photoshop. Nikon D5000 manual bracket Nikkor 18-5mm lens, tripod mounted.
http://www.fleetwood-fishing-industry.co.uk/cat...
M.F.V. Good Hope – FD3540
Fleetwood Trawler – Good Hope FD354
Official Number: ?
Net Tonnage: 28
Length: ?
Breadth: ?
Draught: ?
Built: 1948 by Alexanders of Wick
Engine: ?
History
1948: Built as Good Hope WK209, Owners Robert A. C. Donn and Others of Latheronwheel, Caithness.
1961: Registered still as Good Hope WK209, Owner G. F. Donn, Port Dunbar, Wick.
197?: Fishing from Fleetwood.
2010: Good Hope has been left to rot on Skippool Creek. She has been there for a long time.