The Good Hope rests at Skippool Creek, Poulton Le Fylde near Blackpool.
Over the years many people have tried to restore it but despite this, the 'old girl' is slowly rotting away.
Featured Image on Redbubble Explore Pages 9th May 2011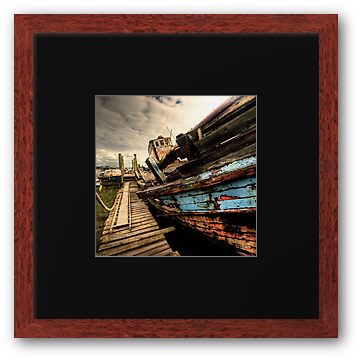 3 shot HDR processed in Photomatix with further adjustments in lightroom.
Nikon D5000, Sigma 10-20mm lens @10mm, ISO200, f7.1, 1/200 (e/v +/-2) tripod mounted.
http://www.fleetwood-fishing-industry.co.uk/cat...
M.F.V. Good Hope – FD3540
Fleetwood Trawler – Good Hope FD354
Official Number: ?
Net Tonnage: 28
Length: ?
Breadth: ?
Draught: ?
Built: 1948 by Alexanders of Wick
Engine: ?
History
1948: Built as Good Hope WK209, Owners Robert A. C. Donn and Others of Latheronwheel, Caithness.
1961: Registered still as Good Hope WK209, Owner G. F. Donn, Port Dunbar, Wick.
197?: Fishing from Fleetwood.
2010: Good Hope has been left to rot on Skippool Creek. She has been there for a long time