A recent survey showed that people who also SMS during their smoke break are 32% less likely to stop smoking because their social life would decline. Another survey found that 63% of all statistics are made up on the spot.
This worker is texting during her smoke break at the V&A Waterfront, Cape Town, but it could be any country in the world where you find cell phones and laws about smoking inside. It did not happen during the 20th century and is therefore also a record of the times.
From the People elsewhere engaged series and Colour and B&W collection.
The same doors on the other side: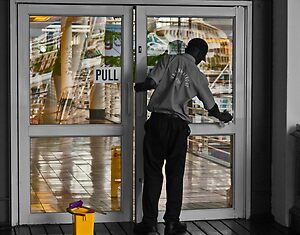 .