I feel that I have to explain why I choose to post this picture as if the RedBubble Inquisition will storm in here demanding reasons.
Well, a few days ago there was a comment on a picture of mine using the word incongruity and I have been wondering about that a lot. Entering my own challenge around ideas of incongruity so to speak.
Another reason is the idea of selective colouring as a tool to emphasize key elements of a picture while keeping the background details (This was at the V&A Waterfront Cape Town, by the way)
There are already a few pictures in my album about people who go about being elsewhere occupied while life goes on around them.
The fourth reason is just for fun.
Part of January Featured Member of the Month of Tell Your Photo Story
Featured in PEOPLE: ACTIONS & RE-ACTIONS of #1 Artists of RedBubble , 08/06/10
The first on the theme of incongruity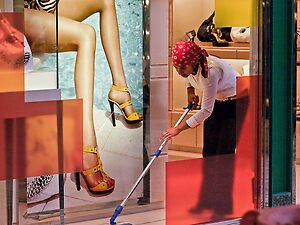 And another picture on the same theme: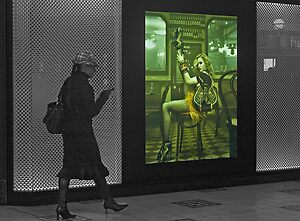 More selective colouring
More pictures of people elsewhere engaged