Photograph of St Mary's Church, Dunvegan, Isle Of Skye, Scotland. March 2010.
2 hand held exposures, tone mapped from a Canon 5d Mark II, EF16-35 2.8 L II and processed with Photomatix, Raw and Photoshop.
1/60 and 1/250, f11, iso100, 16mm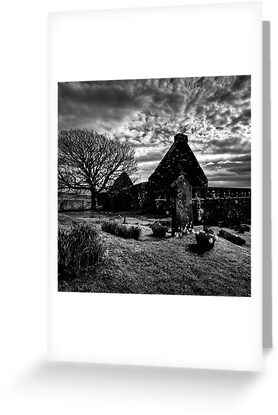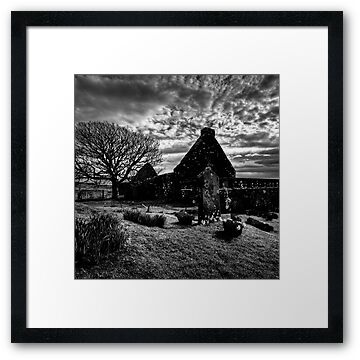 St. Mary's, Kilmuir, 1694. Consolidated rubble oblong of old Duirinish parish church in stone-walled burial enclosure, reminiscent of Skye's other post-Reformation parish churches of Strath and Sleat. Eighteenth century aisle and mural memorials; balustraded burial enclosure with architraved doorway of 1735 attached to west gable. Although St. Clement's Church, Rodel was the principal resting place for the Macleod chiefs, some are buried here, as are generations of MacCrimmons, hereditary pipers to the Macleods. Predominant in the graveyard is an ashlar obelisk memorial, early 18th century, with weathered inscription to 'Lord Thomas Frazer' (father of Simon, 11th Lord Lovat, who was executed on Towerhill in 1747) who died at Dunvegan while visiting his brother-in-law in 1699. In 1888 this 'lay in pieces on the ground', the kirk ruinous, overgrown with weeds and filled with junk, according to J. and E. Pennell. Its roof had caved in about 20 years earlier. Some carved late-medieval gravestones and 18th century tablestones.
Taken from "Western Seaboard: An Illustrated Architectural Guide", by Mary Miers, 2008.