Canon PowerShot SX260 HS; 1/160s, f/4.0, ISO 200, focal length 2.4mm (35mm equivalent 38mm); AUTO setting
Please see in larger view
This old and rusty historic locomotive, thought to be built around 1915, sits off a road in Levy County, Florida, in a small area called Wayside Park. I photographed the sign near it, which contains the historical information. (see below) I have used a filter in Topaz Adjust/Photoshop7 and changed it to black and white to show the detail under the locomotive better. Vegetation is beginning to grow around and among the wheels.
Top Ten Winner in the "From the Bottom of the Wheel" challenge in , Feb. 17, 2013
FEATURED in , Feb. 9, 2013
Original photo: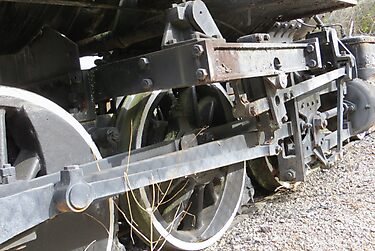 Information on the locomotive: