Canon PowerShot SX260 HS; 1/400, f/6.8, ISO 100, focal length 90mm; AUTO setting
This Royal Tern obligingly posed like its cousin the Forster's Tern, so I could get a good comparison of the two birds. (See my photo of the Forster's Tern here) This was taken in Cedar Key, Florida, USA.
FEATURED in , Nov. 19, 2012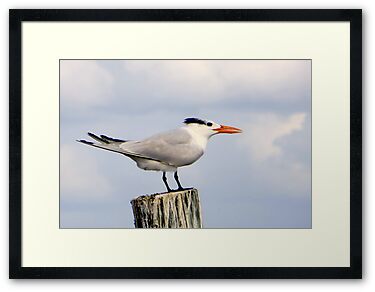 From Birdlife.org:
Description:
The Royal Tern (Sterna maxima) is a slender, long-winged, long-billed bird. It has an orange bill, spiky black crest at the rear of the head, black legs and white face and belly with pale gray back and upper wings. Adults are easily noticeable by the black mask over their eyes.
Size:
The royal tern weights 12-15 ounces, is about 19-20 inches in size, and has a wingspan of 49-53 inches.
Habitat:
Terns are found along the beaches of the Gulf of Mexico, California, and north to Maryland. The Royal Tern is almost entirely restricted to salt water, where it frequents harbors, estuaries, sandy beaches, and nearshore waters on the coast. However, it is now being seen more frequently, especially in winter, over inland lakes and at phosphate mines in Florida.
Offspring:
The Royal Tern makes its nest scrape on the ground on low-lying islands. Eggs are whitish to brown, heavily spotted around the larger end. Incubation is about a month and young also take about a month to fledge.
Food:
Terns forage on shrimp and other aquatic invertebrates. They hover before diving and have been known to steal food from pelicans.