Canon PowerShot SX260 HS; 1/1250s, f/4.5, ISO 125, focal length 12.7mm (35mm equivalent 74mm);AUTO setting
Edited in Photoshop7/Topaz Adjust; Better in larger view
The Seabreeze Restaurant is in Cedar Key, Florida, Levy County, USA, on the Gulf of Mexico. This is a side view of the old building, and it looks like the pier behind it is popular with the birds. Here most of the birds are pelicans with a few cormorants mixed in.
Top Ten Winner in the "October Avatar~Your Choice" challenge in , Sept. 28, 2013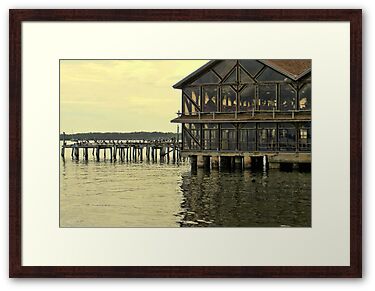 From Cedar Key.com/history:
Cedar Key is located on Way Key just south of the mouth of the Suwannee River. Prior to 1896 the city of Cedar Key was located on Asenta Otie Island. Cedar Key was one of the primary population centers during the frontier days of Florida. Produce was shipped down the Mississippi River and then carried across the Gulf of Mexico to Cedar Key. Here the produce was off loaded to boxcars and transported across the state to Fernandina Beach and then north to population centers in the Northeastern United States. This avoided the dangerous trip around the tip of Florida during hurricane season.
On September 23rd, 1896 a hurricane wiped out the town of Cedar Key. All that remains on its original site on Asenta Otie Island is a graveyard. Buildings were floated by barge across the channel separating Asentie Otie and Way Key and the town was reestablished. Though still shipping seafood over the railroad, the economy of Cedar Key declined. its population moved elsewhere and Cedar Key became a small fishing village. With the Net Ban voted by Florida voters in the 1990's the fishing industry declined. Commercial clamming has become the primary industry for the community. Retirees and artists from throughout the United States have settled in Cedar key.
Note from me: Tony's Restaurant in Cedar Key has the best New England style clam chowder I've ever had. It won the championship for three years in a row over entries from around the country, including New England states, and after winning three times they were not allowed to enter the contest again.